South Korean president's confidante snubs impeachment trial
Seoul |

Tue, January 10, 2017

| 02:21 pm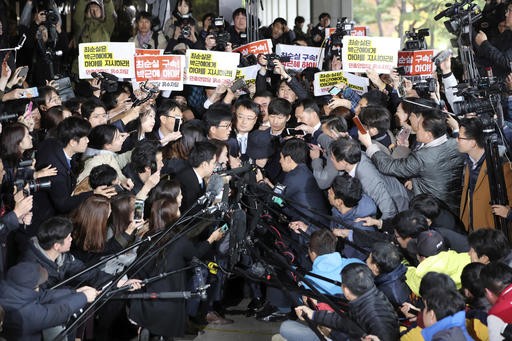 Choi Soon-sil (wearing a black cap at center) a longtime friend of South Korean President Park Geun-hye, is questioned by media upon her arrival at the Seoul Central District Prosecutors' Office in Seoul, South Korea,Oct. 31, 2016. (AP/Lee Jin-man)
Disgraced South Korean President Park Geun-hye's longtime friend at the center of a massive corruption scandal refused to testify at Park's impeachment trial on Tuesday, with lawmakers alleging that it was a stalling tactic.
The Constitutional Court had expected to hear from Choi Soon-sil, a confidante of Park who's currently jailed and on trial herself for allegedly using her connections with the president to extort money and favors from companies and unlawfully interfere with government affairs. But Choi (pronounced Chwey) submitted documents to the court saying she was unable to testify.
Two jailed former presidential aides who purportedly helped Choi also refused to testify, saying they needed to prepare for their own trials.
Lawmakers, who function as prosecutors at the impeachment trial, raised suspicions that Park's lawyers were controlling the witnesses as a stalling tactic.
"Three important witnesses all refused to testify, like they planned it ahead. We think there's an invisible hand at work," said lawmaker Lee Chun-suak.
The no-shows by the three came after the court last week heard from only one of four former and current presidential aides it had called in as witnesses. Police are currently trying to locate the whereabouts of two of Park's former aides after court employees failed to deliver subpoenas to them.
Park's powers have been suspended since Dec. 9, when South Korea's opposition-controlled parliament voted to impeach her.
You might also like :
Comments