Asian stocks set for gains following metals surge: Markets wrap
Wellington |

Wed, January 11, 2017

| 07:31 am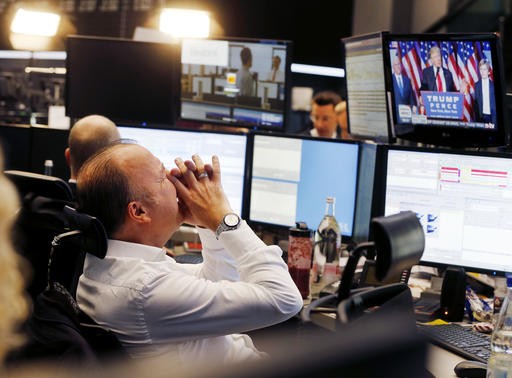 A broker reacts as U.S. President-elect Donald Trump shows up on a television screen at the stock market in Frankfurt, Germany, on Nov. 9, 2016. (AP/Michael Probst)
Index futures foreshadowed gains in Asian stocks after evidence of quickening price growth in China boosted metals and other commodities. The dollar maintained declines against the yen and the euro.
Contracts on equity indexes from South Korea to Hong Kong signaled advances after a mixed day for U.S. shares. Stocks in Australia rallied as the country's 10-year debt eased back. The yen held on to a two-day climb versus the greenback amid anxiety ahead of Donald Trump's first press conference since July, an event that could provide detail on the U.S. president-elect's policy outlook. Gold was near its highest price since November after a surge in copper to iron ore on the Chinese data Tuesday. Oil snapped a two-day slide.
The fastest pace of growth for Chinese producer prices in five years propelled gains in industrial metals and other raw materials amid prospects the world's second-largest economy will export inflation around the world via its supply chains. The data came amid a sense of caution in U.S. markets as the euphoria over Trump's perceived pro-growth policies faded with Congress holding confirmation hearings for his proposed cabinet members. The S&P 500 Index closed little changed after rallying as much as 0.5 percent on Tuesday.
"Given China is the world's exporter, changes in their prices are important," said James Woods, global investment analyst in Sydney at Rivkin Securities Ltd. "This will add to the shift we are seeing in global equity markets away from defensive sectors such as utilities, telecommunications and health care into more cyclical sectors."
(Read also: Indonesian markets panic over Trump's policies)
Australia reports on job vacancies Wednesday and Malaysia issues data on factory output.
Stocks
Miners and technology shares led Australia's S&P/ASX 200 Index up 0.2 percent as of 8:56 a.m. Tokyo time, as the S&P/NZX 50 Index in Wellington also climbed 0.2 percent in a third day of gains.
Nikkei 225 Stock Average futures were bid up 0.1 percent to 19,320 in the Osaka pre-market, with yen-denominated contracts traded in Chicago little changed at 19,350.
Futures on the Kospi index in Seoul advanced 0.1 percent in most recent trading, as those on Hong Kong's Hang Seng and Hang Seng China Enterprises gauges climbed at least 0.3 percent.
The S&P 500 was unchanged at 2,268.90 in New York as health-care and financial shares rose, while real-estate and energy shares slumped.
The Dow Jones Industrial Average hovered below 19,900 Tuesday, while the Russell 2000 Index of small-cap shares rebounded by 1 percent to push its post-election gains back toward 15 percent.
Currencies
The Bloomberg Dollar Spot Index, a gauge of the greenback against 10 major peers, added 0.1 percent early Wednesday.
The yen was little changed at 115.87 per dollar following a two-day advance of more than 1 percent.
The euro was steady at $1.0553.
One-month non-deliverable forwards on the Korean won foreshadowed a drop of 0.3 percent along with similar contracts on the Indonesian rupiah.
Bonds
Yields on Australian government bonds due in a decade rose by one basis point, or 0.01 percentage point, to 2.73 percent after slipping by five basis points last session.
Similar maturity Treasuries yielded 2.38 percent on Tuesday, up one basis point as well.
Commodities
West Texas Intermediate crude gained 0.2 percent to $50.90 a barrel after sliding almost 6 percent over the past two days.
Analysts project U.S. crude stockpiles rose by 1.5 million barrels last week, muting optimism fueled by Russia, Iraq, Kuwait, Kazakhstan and Azerbaijan saying they're implementing last year's accord to cut production.
--With assistance from Jeremy Herron To contact the reporter on this story: Emma O'Brien in Wellington at [email protected] To contact the editors responsible for this story: Emma O'Brien at [email protected], Andreea Papuc
Topics :
You might also like :
Comments