Women finally return home after forced work without pay
Djemi Amnifu

The Jakarta Post
Kupang, East Nusa Tenggara |

Tue, January 17, 2017

| 06:51 am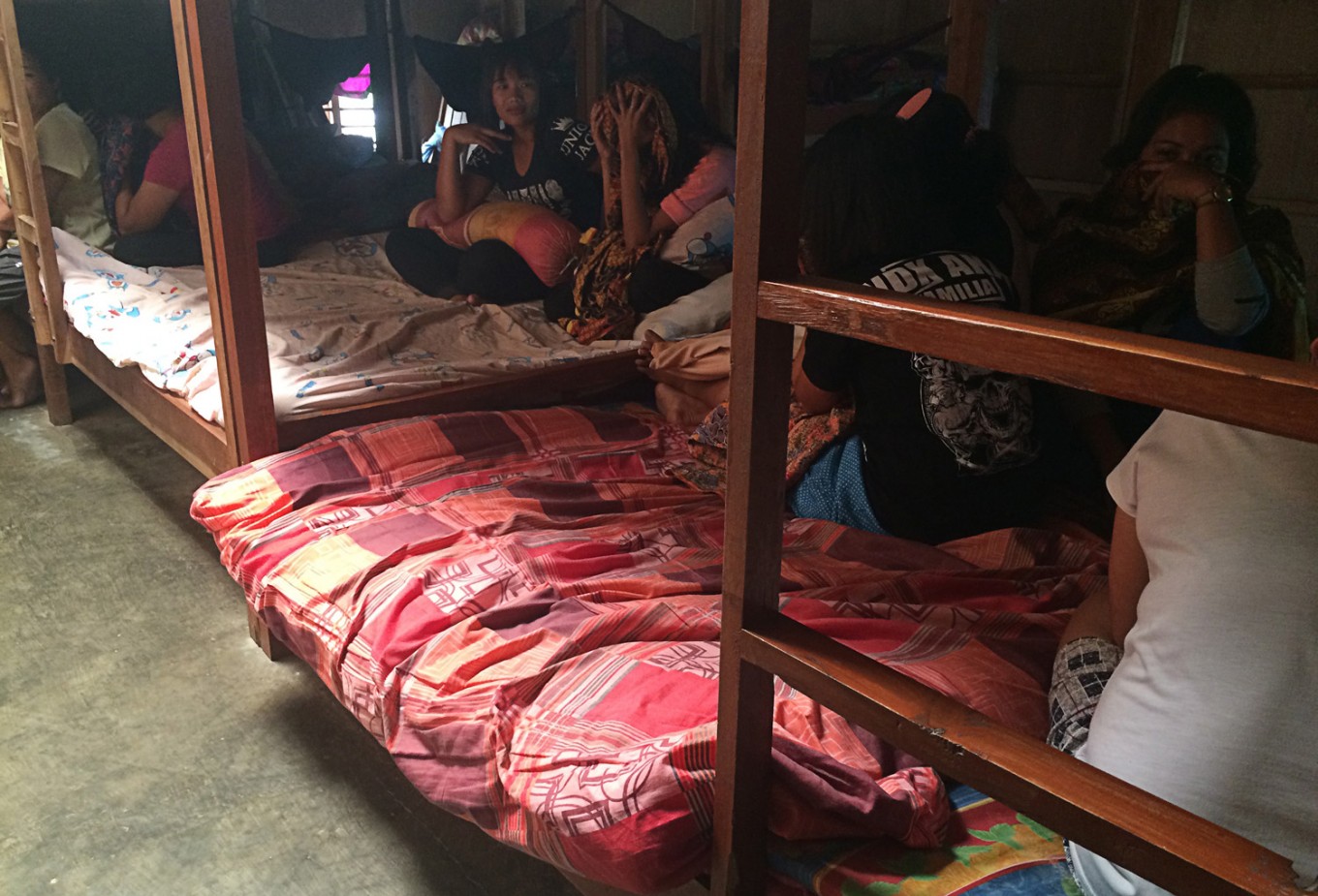 Illegal dispatch -- Illegal migrant workers recruited from several areas across Indonesia spent time waiting for their departure in their tiny room in a shelter in Karanganyar, Central Java. A joint team of the Agency for the Placement and Protection of Indonesian Migrant Workers (BNP2TKI) and the Indonesian Migrant Workers Placement, Protection and Monitoring Agency (BP3TKI) Central Java raided the shelter on Jan.12. (JP/Ganug Nugroho Adi)
Four people from East Nusa Tenggara (NTT) who were illegally trafficked to Aceh two years ago have returned home, a police member said on Monday in Kupang.
Kupang Police chief Adj. Sr. Comr. Adjie Indra Dwiatma said the four victims were taken by force to Aceh by suspect Susi Nona, the leader of a recruitment agency in Aceh.
"They are the second group that has been returned so far following the return of 12 human trafficking victims in November," Adjie told reporters.
He said the four had been in Aceh for two years. One of them, with the initials LL, was 16 years old. Three were from Kupang while one was from Malaka.
They were promised employment as domestic workers with salaries ranging from Rp 800,000 (US$60) to Rp 1 million a month.
However, they never received payment and were accommodated in a barn where they slept on the floor.
Adjie said the network led by Susi Nona had so far sent 375 people to work in Aceh, North Sumatra and Kalimantan without proper documents and without paying them as promised. They were only given pocket money.
"They were initially trafficked through the main network gate in Medan and later were distributed to Aceh and Kalimantan," he said, adding that to do so the network forged documents such as identity cards, parent permits, birth certificates and baptism certificates for minors.
Adjie said that in dealing with human trafficking cases his office did not just process the perpetrators but also returned the victims home.
He said the victims would be taken to the Kupang Police headquarters for investigation purposes.
Separately, executive director of the NTT labor advocacy and initiative development association (PIAR), Sarah Lerry Mboeik, said the root of problems related to migrant workers was low-income people seeking decent livelihoods.
If local administrations offered job opportunities, people would have the choice to migrate or to stay in their home villages.
Sarah cited as an example a migrant worker village in Lembata regency where services were offered to migrant workers from the subdistrict level.
"This is preventive and curative," said Sarah, adding that upon returning to their village after finishing their terms as migrant workers they created jobs by, for example, running home industries so that they did not need to return to their workplaces abroad.
PIAR data showed that throughout 2016, 54 migrant workers from NTT died, 51 of whom were working abroad.
Sarah said of the 54 workers, only 15 to 20 percent had proper documentation. The rest were undocumented.
Sarah blamed the situation on a lack of protections for migrant workers as a result of being fully managed by the private sector.
She also underlined a lack of transparency in their recruitment, placement and return home.
Also concerning, according to Sarah, was the fact that many migrant workers were women who shared the responsibility to bring in money for their families.
The potential consequences, however, were abundant.
"For instance, they leave undocumented but when returning home their husbands are already married to other women and they have to take care of their children," Sarah said.
You might also like :
Comments