Association doubts over gross-split sliding scale
News Desk

The Jakarta Post
Jakarta |

Mon, February 13, 2017

| 10:47 am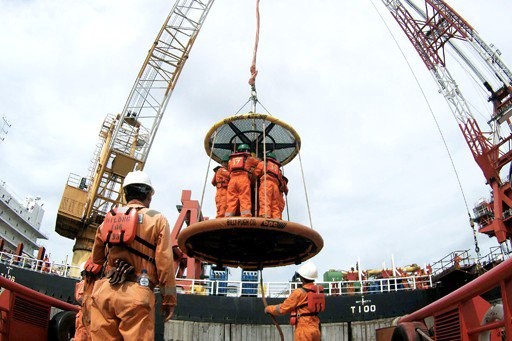 Pertamina Hulu Energi West Madura Offshore (PHE WMO) workers are moved in a personnel basket from a ship to the company's oil rig off the coast of Madura Island in East Java. (JP/Wahyoe Boediwardhana)
The Indonesian Employers Association (Apindo) has expressed doubt over the government's newly-launched gross-split sliding scale for the oil and gas upstream industry in its ability to apply to exploration industry contracts.
The contractors for the exploration industry are apparently not interested in the new scheme, as there is uncertainty over whether it could actually benefit them, Sammy Hamzah, Apindo chairman for energy and mineral resources, said on Sunday.
"The gross-split indeed solves problems in the industry, but only for production contracts industries. However, it can be difficult to apply it to exploration contracts, as the split that the new scheme offers is not as interesting as a net split," Sammy said during a discussion at the Press Council secretariat in Jakarta.
(Read also:Pertamina uses gross-split to manage eight oil and gas blocks)
There were two things that contractors for exploration contracts wanted, namely legal certainty and options, he added.
"The government should give [contractors] an option. Why does the government not provide the option for them to choose either the gross-split or other schemes? Why is the [gross-split] being forced?" he said.
Investment in the exploration industry was reportedly stagnant for five years after regulation No. 22/2001 was approved, Sammy said, adding that it even declined after the five years of stagnancy.
He blamed the problem on the inconsistencies of follow-up regulations that came about after the regulation in 2001.
The government has recently introduced the gross-split scheme, which will release it from the duty to reimburse exploitation costs to contractors during the length of their contracts, forcing companies to carry the burden of these costs themselves. (yon/bbn)
You might also like :
Comments