Strong wind knocks down polling stations in Gorontalo
Syamsul Huda M.Suhari

The Jakarta Post
Gorontalo |

Wed, February 15, 2017

| 04:35 pm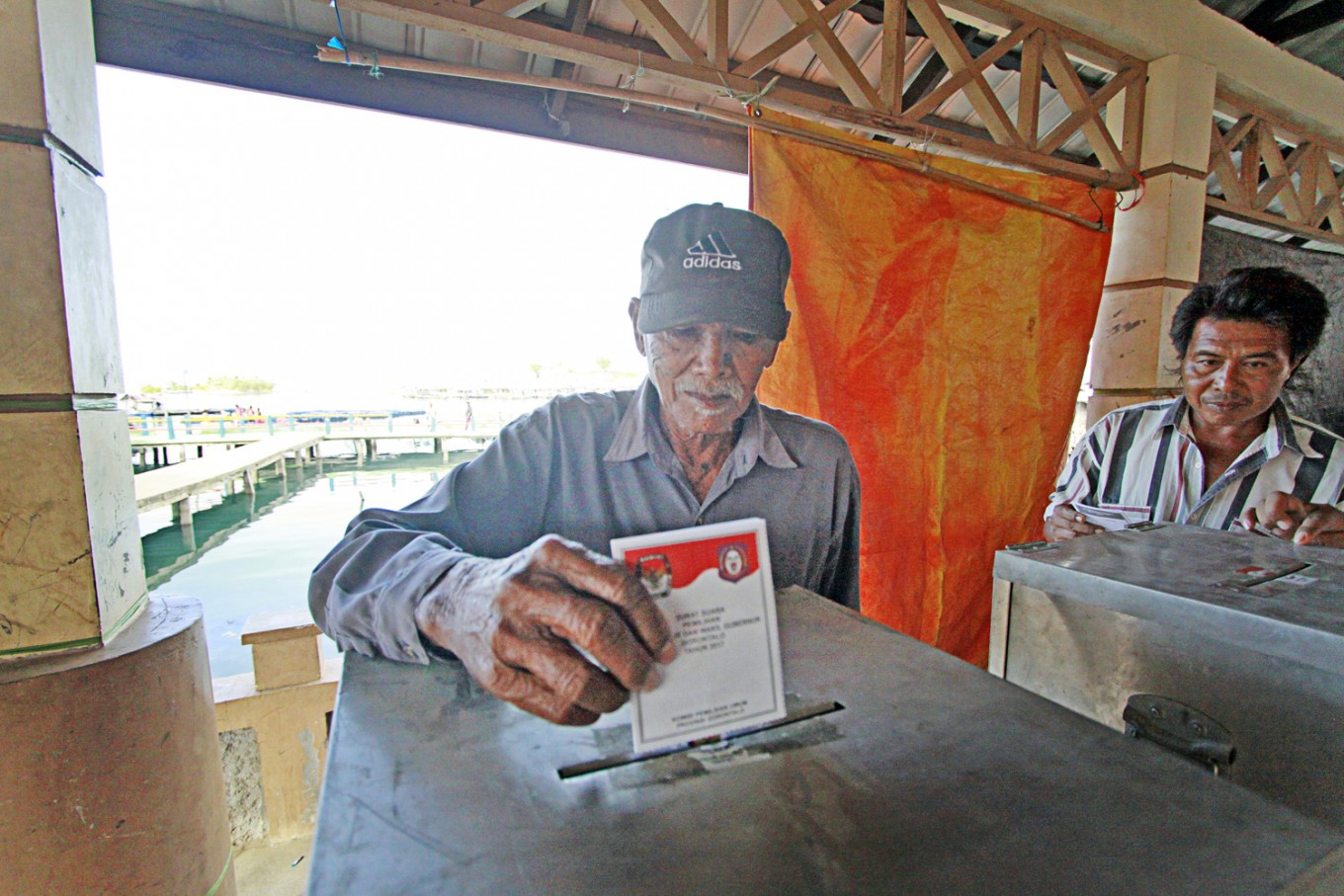 Democracy at work – A Bajo tribe voter puts his ballot into a drop box at Polling Station 1 in Bajo village, Tilamuta, Boalemo regency, Gorontalo, on Wednesday. (Antara/Adiwinata Solihin)
Several polling stations collapsed on the election day in the regency of North Gorontalo amid heavy rain and strong winds.
The polling stations were moved to more sheltered locations, so that voting could proceed in the election for Gorontalo's future governor and deputy governor.
Gorontalo General Elections Commission (KPU) member Verrianto Madjowa said five polling stations had collapsed or had been inundated in flooding on Wednesday.
Hit by strong winds and heavy rain, Polling Station 1 in Deme, East Sumalata, collapsed and was then moved to a safer place. Heavy rain and intense wind struck a polling station in Puncak Mandiri, Sumalata, while Polling Station 2 in Hutakalo village, also in Sumalata district, was flooded.
A polling station hit by flooding in Mokonow village, Monano district, was moved to a higher place. Another polling station in Tudi village, Monano district, was also moved after flooded.
"In general, the gubernatorial election in Gorontalo ran safely and orderly," Verrianto told The Jakarta Post on Wednesday. Most areas of Gorontalo did not see rain on election day.
To encourage residents to exercise their right to vote, the Gorontalo provincial administration held a competition for the best polling station in six regencies and municipalities.
Based on KPU data, Gorontalo has 1,979 polling stations and 791,129 voters. Three candidate pairs, Hanah Hasanah Fadel-Toni Yunus, Rusli Habibie-Idris Rahim and Zainuddin Hasan-Adhan Dambea are competing in the election. (ebf)
Topics :
You might also like :
Comments