Incumbent candidate rejects official vote count in Takalar
Andi Hajramurni

The Jakarta Post
Takalar, South Sulawesi |

Fri, February 17, 2017

| 09:02 pm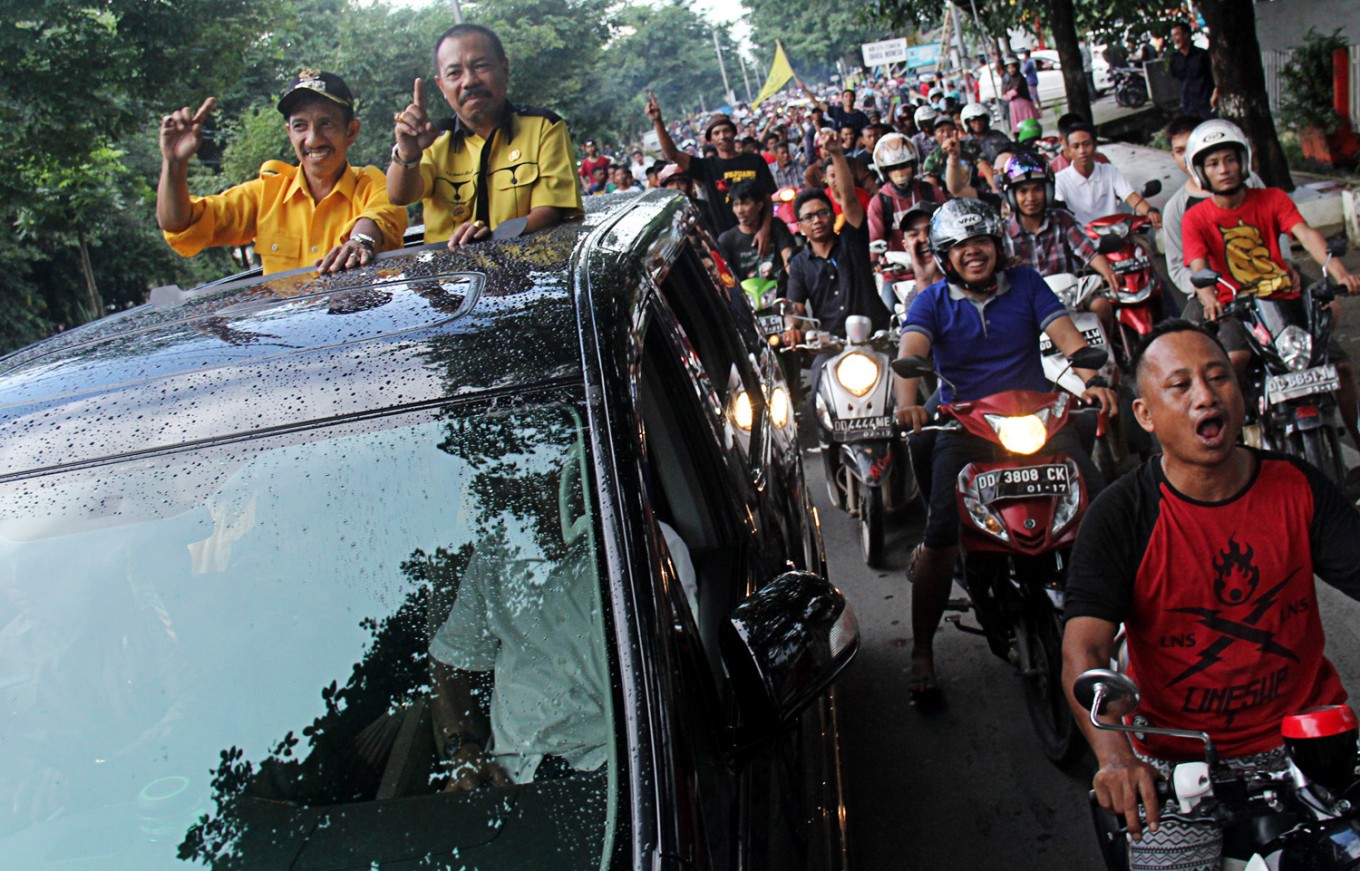 Staying firm: Takalar regent candidate Burhanuddin Baharuddin (left) and his running mate, Natsir Ibrahim (second left) parade with their convoy to celebrate their "victory" on Feb. 15. (Antara/Abriawan Abhe)
Witnesses for incumbent candidate pair Burhanuddin Baharuddin-Muhammad Natsir Ibrahim, who suffered a defeat in the regency election in Takalar, South Sulawesi, refused on Friday to sign the official report on the vote count conducted by district polling committees (PPKs) in their respective areas.
They stated that the result was different with the count conducted by the pair's own team, which showed Burhanuddin-Natsir winning the election.
The result released by the General Elections Commission's (KPU) vote counting information system (Situng) showed Burhanuddin-Natsir receiving 49.42 percent of the vote while their rival, Syamsari- Achmad Daeng Se're, secured 50.58 percent. The count was declared complete as all data from polling stations had been received.
KPU South Sulawesi head Iqbal Latief said although the witnesses representing Burhanuddin-Natsir refused to sign the minutes, the result remained valid.
"The vote counting process conducted by the PPKs has been in line with proper procedures. The result is valid," said Iqbal.
He said the Burhanuddin-Natsir camp could file a lawsuit with the Constitutional Court (MK) if they did not accept the outcome. The number of registered voters in Takalar was 207,712, but only 174,662 voted. (ebf)
You might also like :
Comments