Jakartans urged to register for second round of election
News Desk

The Jakarta Post
Jakarta |

Fri, February 17, 2017

| 11:49 am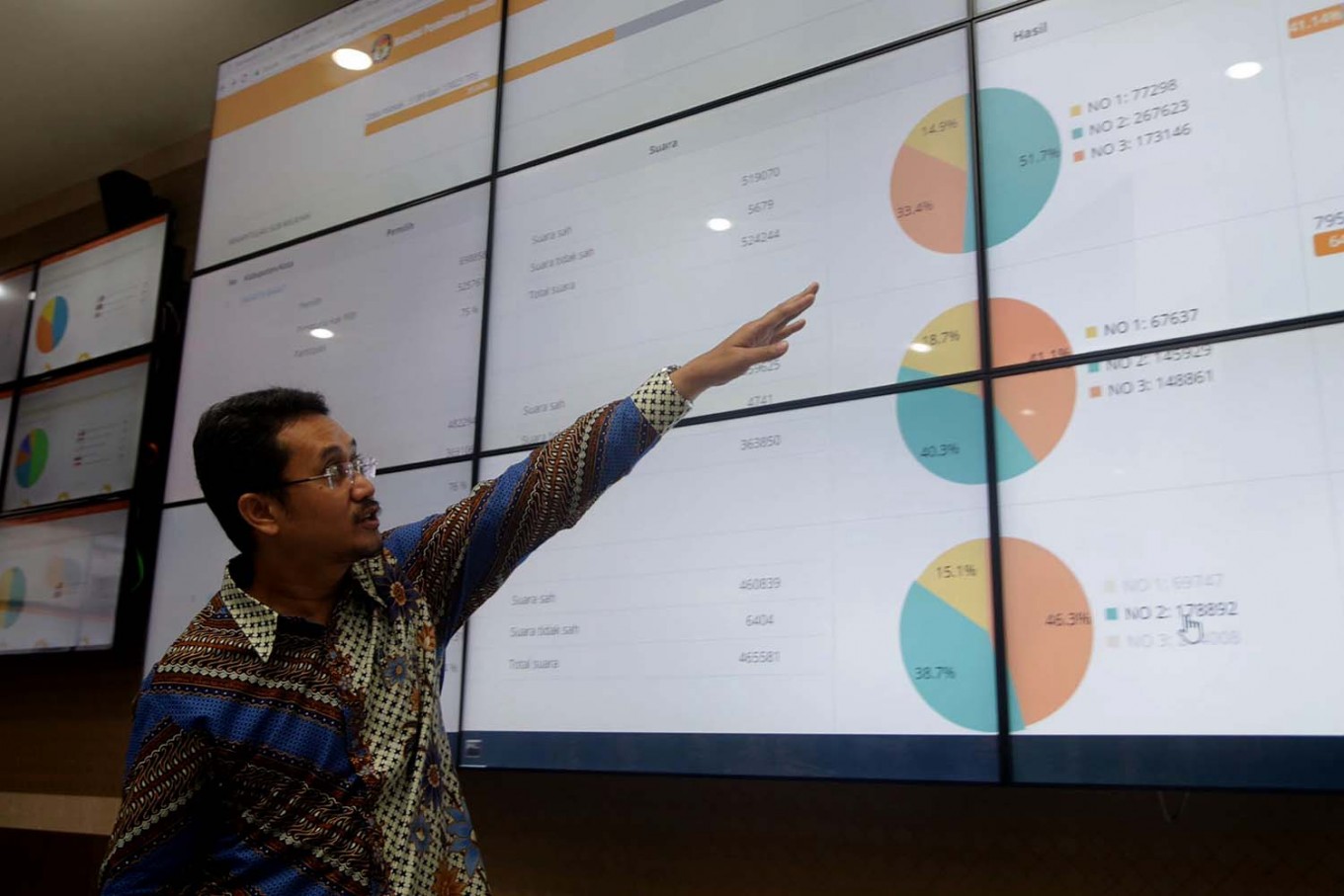 Your choice: General Elections Commission (KPU) member Ferry Kurnia Rizkiyansyah monitors vote-counting in the 2017 simultaneous regional elections at KPU headquarters in Jakarta on Wednesday. (JP/Wendra Ajistyatama)
The Jakarta National and Political Unity Agency (Bakesbangpol) is calling on all residents to be more proactive in ensuring their inclusion on the final voter lists (DPTs) ahead of the second round of the gubernatorial election to prevent a shortage of ballots on the day of voting, scheduled for April.
Bakesbangpol Jakarta head Darwis Muhammad Aji said a shortage of ballots had been one of the key problems affecting Jakarta's gubernatorial election on Feb.15. Many residents not yet registered on the DPT swarmed polling stations to vote by bringing their identification cards (e-KTP), recommendation letters from the Civil Registry and Demography Agency (Disdukcapil) or family cards only in the last minutes before voting ended at 1 p.m.
As a result, many of them could not cast their votes, because many polling stations did not have enough ballots to accommodate the additional voters.
(Read also: Jakarta voter list to be increased ahead of second round)
Darwis said Jakarta residents should be more aware of the need to register their participation in the election to ensure their names were on DPTs."Don't go to polling stations to cast vote only in minutes before they close by only bringing your e-KTP and family card. In that case, it is unlikely election committees can fully facilitate them," he said, as quoted by kompas.com at City Hall on Thursday.
Darwis said the number of additional ballots for unregistered voters was very limited, amounting to only 2.5 percent of the total number of voters registered on the DPT of a polling station.
In the first round of voting on Wednesday, he said, there had been a jump in unregistered voters who wanted to use the additional ballots. (ebf)
You might also like :
Comments