Lawmaker rejects criticism of work visits to Germany, Mexico
News Desk

The Jakarta Post
Jakarta |

Fri, March 3, 2017

| 06:37 pm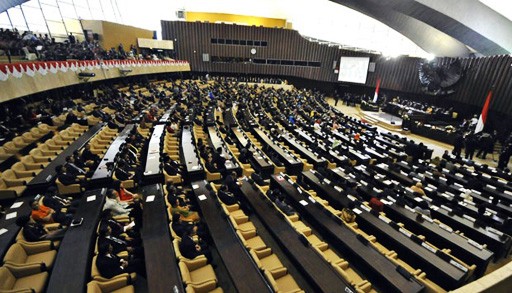 All ready: House of Representatives members sit inside the House building. House deputy speaker Agus Hermanto said on Tuesday that the deliberation of the tax amnesty draft bill was likely to start in April when the House of Representatives resumes its sitting session. (Tempo/-)
The deputy head of the House of Representatives' special committee (Pansus) on the election bill, Yandri Susanto, has rejected criticism filed by several parties over its plan to hold work visits to Germany and Mexico.
He denied the claim that the work visits, which are reportedly being conducted to receive background information on election laws applied in other countries, had no any urgency in the deliberation process of the bill.
He also disagreed with critics who have argued that learning about the electoral systems of other countries could be conducted without having to carry out a work visit to those countries.
There was also a note of pessimism among the critics about the
Critics have also expressed doubt that the deliberations of the bill will wrap up within the targeted timeframe, which ends in April or the beginning of May.
Responding the criticism, Yandri said only leaders and several members of the committee would attend the work visits to Germany and Mexico. He could not yet confirm how many of total 30 Pansus members would take part in the visits.
"Some of them will not attend the visits. We're still waiting for their final confirmation," said Yandri as quoted by kompas.com at the House complex in Jakarta on Thursday.
The work visits are scheduled for March 11 to March 16.
Yandri asserted that work visits abroad were important because many things could not be learned without direct observation. He said committee members would focus their attention on learning about certain electoral issues during the trips, including those related to special tribunals, election funding, simultaneous elections and e-voting.
"We are serious about that," said Yandri. (rdi/ebf)
You might also like :
Comments