Police target 'land mafia'
Moses Ompusunggu

The Jakarta Post
Tanjung Gusta, North Sumatra |

Sat, March 18, 2017

| 09:02 am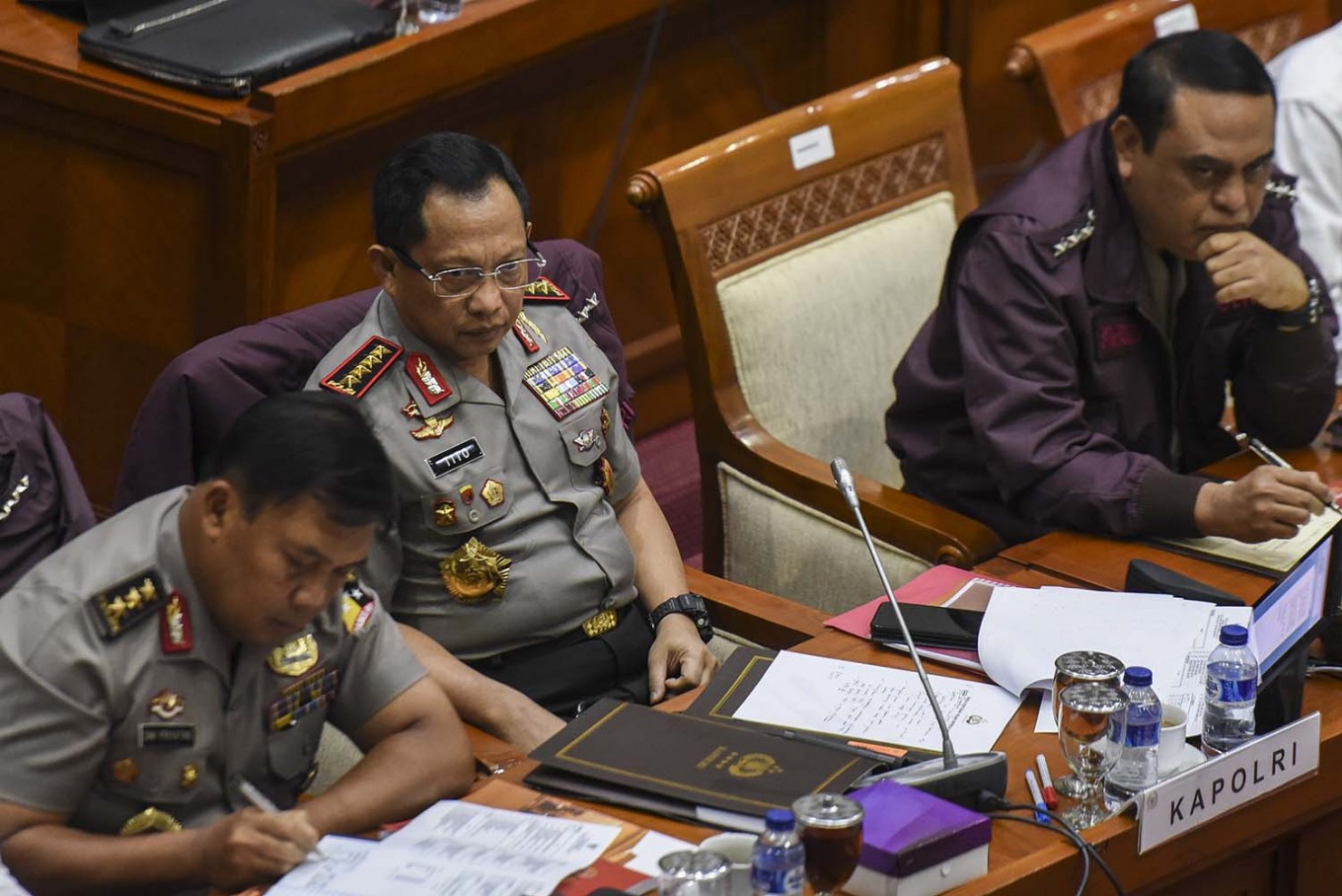 National Police chief Gen. Tito Karnavian (center) attends a hearing at the House of Representatives in Jakarta on Feb. 22. (Antara/Hafidz Mubarak A.)
President Joko "Jokowi" Widodo knows he has set himself a herculean task with his agrarian reform.
However, on Friday, his administration took a major step forward when the National Police in cooperation with the Agrarian and Spatial Planning Ministry pledged to take stern action against rampant so-called "land mafia" practices in the country.
The two institutions signed a memorandum of understanding (MoU) to pave the way for police to crack down on such practices and resolve land conflicts, which in the past have seen the involvement of private and state actors, including the police themselves.
"We want to eradicate the land mafia [...] they have been toying with law enforcement," National Police chief Gen. Tito Karnavian said after the MoU signing. The general also acknowledged that police personnel had colluded with the land mafia. "[When it comes to] dealing with our ranks, [the mafia] knows the tricks," Tito said.
He also admitted the land mafia used bribery as a shortcut to get land disputes settled.
Tito said the police and the ministry would form a special team within a month to forge ways to tackle problems surrounding issues such as the overlapping of authority among agencies, a messy land ownership database, poor access to land certification and illegal levies, among other issues.
The MoU also covers an agreement to speed up the certification of land plots owned by the National Police.
"There is a total of 83 million square meters of land owned by the police that do not have certificates," Tito said.
Jokowi has promoted his agrarian reform plan as a key to reducing poverty as well as narrowing the equality gap.
The reform agenda includes the granting of 21.7 million hectares of idle land to customary peoples and poor farmers to improve their welfare and reduce economic disparity.
But land problems, which could seriously hamper the reform plan, have been a major problem for many years, with disputes involving big companies, especially farming and mining firms, often resulting in social conflict, as a result of the involvement of police and military personnel.
Observers have also noted other common land mafia practices in the country, including falsification of land-ownership certificates involving collusion between corporations and officials from different government institutions.
Agrarian and Spatial Planning Minister Sofyan Djalil said his ministry had allocated Rp 2 trillion (US$150 million) from the state budget this year to issue 5 million land certificates. The target will be increased to 7 million certificates next year and 9 million the year after.
"Only 44 percent of the total land assets in Indonesia have been certified. There's a long way to go," he said.
Separately, Office of the Presidential Staff (KSP) chief Teten Masduki acknowledged it would be an arduous road toward achieving the desired result.
"It's certainly ambitious," Teten told reporters on the sidelines of the fifth Congress of Indigenous People of the Archipelago in Tanjung Gusta in North Sumatra.
KSP data show that, of the total target of 4.5 million hectares of land to be distributed to farmers, only around 63,900 ha and 123,280 ha were processed in 2015 and in the first eight months of 2016, respectively. Of the targeted 4.5 million hectares of land to be legalized by 2019, only 424,573 ha had been completed as of 2016.
Teten, however, insisted that the land-redistribution plan would take the side of small-scale farmers, and not companies, especially those running palm oil plantations — a longstanding driver of deforestation and forest fires.
"The agrarian reform plan will not pave way for the opening of new oil palm plantations. The government wants companies to concentrate on developing their downstream industry," Teten said.
Chairman of the National Council of Agrarian Reform Consortium (KPA) Iwan Nurdin said he was not very impressed by the agreement. "Those two institutions are the ones with the most officials who tend to abuse their authority in helping the land mafia," he said. (dis)
You might also like :
Comments