Wenger won't tell protesting fans decision on Arsenal future
Rob Harris

Associated Press
London |

Sun, March 19, 2017

| 08:29 am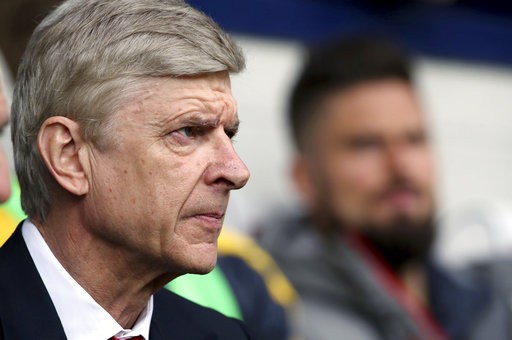 Arsenal manager Arsene Wenger follows the game, during the English Premier League soccer match between West Bromwich Albion and Arsenal, at The Hawthorns, in West Bromwich, England, Saturday. (AP/Nick Potts/PA)
Arsene Wenger is teasing out the decision on his Arsenal future. Some fans will only be satisfied if there's a new manager next season — especially after Arsenal slumped to a fourth loss in five Premier League games.
"I know what I do," Wenger said after Saturday's 3-1 loss at West Bromwich Albion that saw another wave of fans' protests — in the skies over the Hawthorns and in the stands.
But Wenger isn't saying whether his reign will be extended into a 22nd season, or even if Arsenal wants him to stay.
"I don't worry," he said. "I know what I will do in my future so you will soon know."
The "NO CONTRACT WENGER OUT" banner that trailed from a plane flying over West Brom on Saturday made it clear that some fans want the decision taken out of Wenger's hands.
The latest collapse further jeopardizes the one constant under Wenger: Champions League qualification. Arsenal is five points from the qualification places, having played a game less than fourth-placed Liverpool.
Any hopes of a first title since 2004 faded long ago, with Chelsea surging 19 points ahead of Arsenal with a 2-1 win at Stoke on Saturday. Not that any team is close to Chelsea. Tottenham and Manchester City are the closest challengers but are 13 points behind the leaders heading into their games on Sunday.
You might also like :
Comments