In a drug raid, it's either us or them who die, says BNN
News Desk

The Jakarta Post
Jakarta |

Mon, March 27, 2017

| 01:44 pm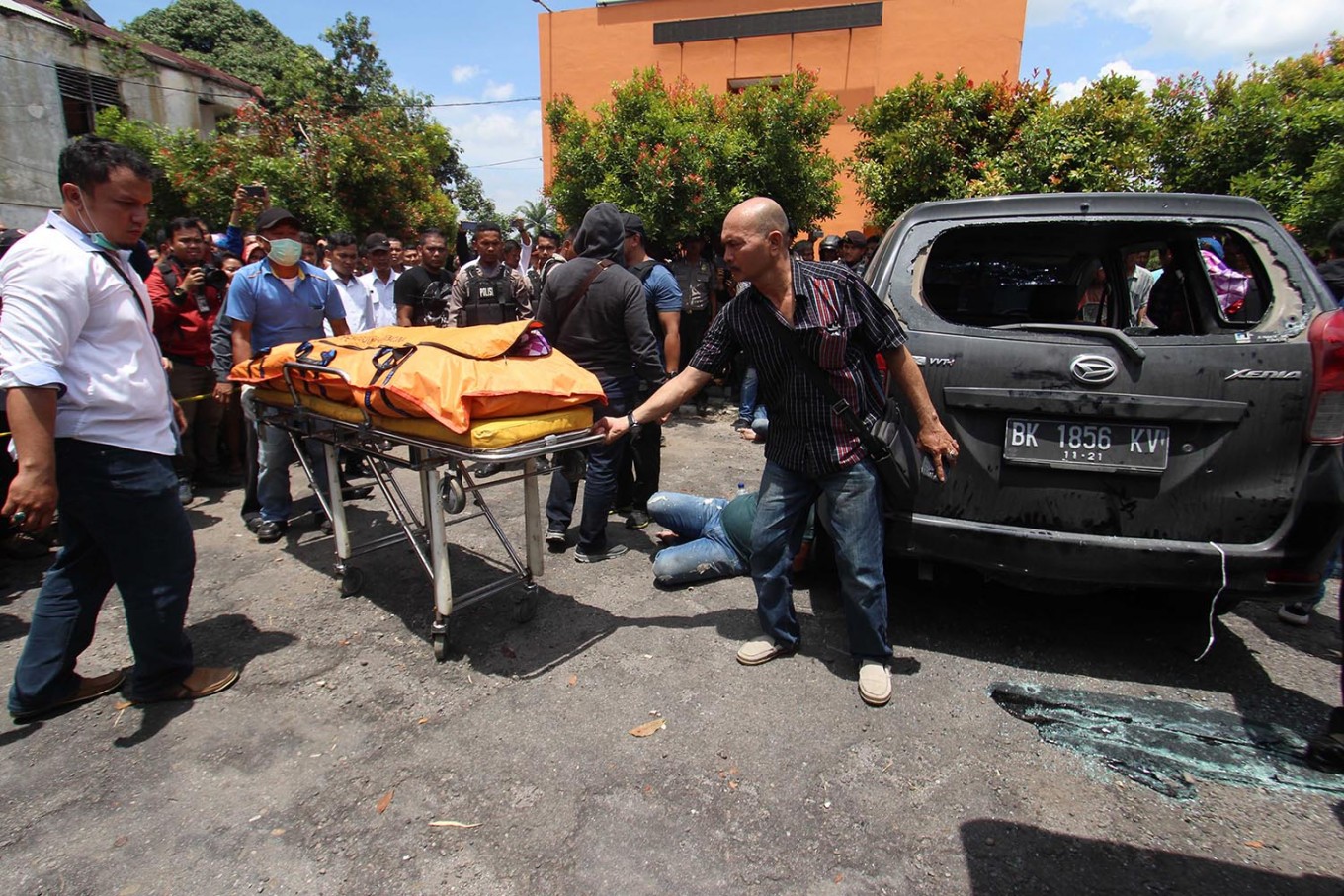 Officials recover the dead body of a drug trafficker who tried to resist arrest during a raid on a highway connecting Binjai and Medan, North Sumatra, on March 1. (Antara/Septianda Perdana)
Following the declaration of a war on drugs by President Joko "Jokowi" Widodo, the National Narcotics Agency (BNN) is continuing its harsh approach of hunting down drug dealers with orders to shoot any who resist arrest.
BNN spokesperson Ricky Yanuarfi said that even with the Law No. 35/2009 on narcotics, which already takes a very firm stance toward drug dealing, when BNN officers' lives are in danger, they have to "finish off" drug dealers.
Ricky said disarming drug traffickers was not enough because they are highly trained and equipped with firearms as sophisticated as the agency's. "When they get shot, they still resist. That is why we must be more assertive. In the end, what do we do when our officers are shot dead?" he said on Saturday.
(Read also: Indonesia's war on drugs takes deadly turn)
So far in 2017, BNN claims they have shot eight people, including two in North Sumatra and another two in Jakarta, who are all part of a drug syndicate.
Ricky added that in a situation where 1 kilogram of drugs could kill five people, BNN wanted to reverse the human rights discourse. "When 30 kilograms [of narcotics] are distributed, imagine how many children are affected." he said in defense of the agency's policy.
The agency's stance has been compared to Philippine President Duterte's notorious extrajudicial killings. Ricky, however, said Duterte's plan was to track down drug dealers and shoot them based on the data. "We're different because even if they're not on our records, if they resist arrest, we'll finish them off," he said. (dis/wit)
Topics :
Join the discussions