With zero presidential threshold, Dems may nominate SBY's son
News Desk

The Jakarta Post
Jakarta |

Mon, May 8, 2017

| 02:55 pm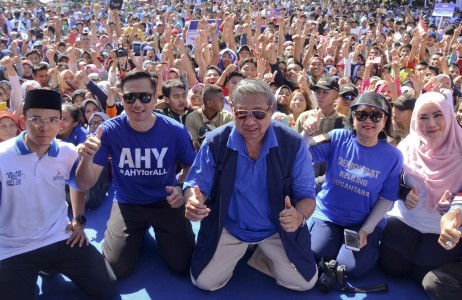 West Nusa Tenggara Governor M. Zainul Majdi (left), chairman of Democratic Party and former president Susilo Bambang Yudhoyono (center) with Ani Yudhoyono (second right) and their eldest son Agus Harimurti Yudhoyono (second left) pose together. (Antara/Ahmad Subaidi)
The Democratic Party may be able to nominate Agus Harimurti Yudhoyono, the son of party chairman and former president Susilo Bambang Yudhoyono, to run in 2019 presidential election if the proposal to eliminate the presidential threshold is passed in an election bill deliberation.
Although Democratic Party secretary general Hinca Panjaitan did not clearly confirm the plan to nominate Agus as the presidential nominee, he also did not deny it.
"Agus has experienced the Jakarta gubernatorial election, although it was a quick process, but he has been recognized by many. Even in the areas like Riau Island and West Nusa Tenggara people's enthusiasm [to support him] is really high," Hinca said.
Politicians from the National Awakening Party (PKB), the National Mandate Party (PAN) and the United Development Party (PPP), three Islamist parties, which supported Agus in the recent Jakarta election, are adamant to support the plan.
PPP secretary general Arsul Sani said the 2019 presidential election is still far away and that the PPP and the Democratic Party have not discussed any coalition plans.
After backing the Democratic Party in the first round of Jakarta gubernatorial election, Arsul said the party is now focusing on supporting the government.
"If this [current] administration is successful then PPP's priority will be to support them in 2019 presidential election so President Jokowi can be re-elected," Arsul said, as quoted by kompas.com. (hol/wit)
Topics :
Join the discussions