Detained fisheries official released by Vietnam
 Tama Salim

The Jakarta Post
Jakarta |

Tue, May 30, 2017

| 10:59 am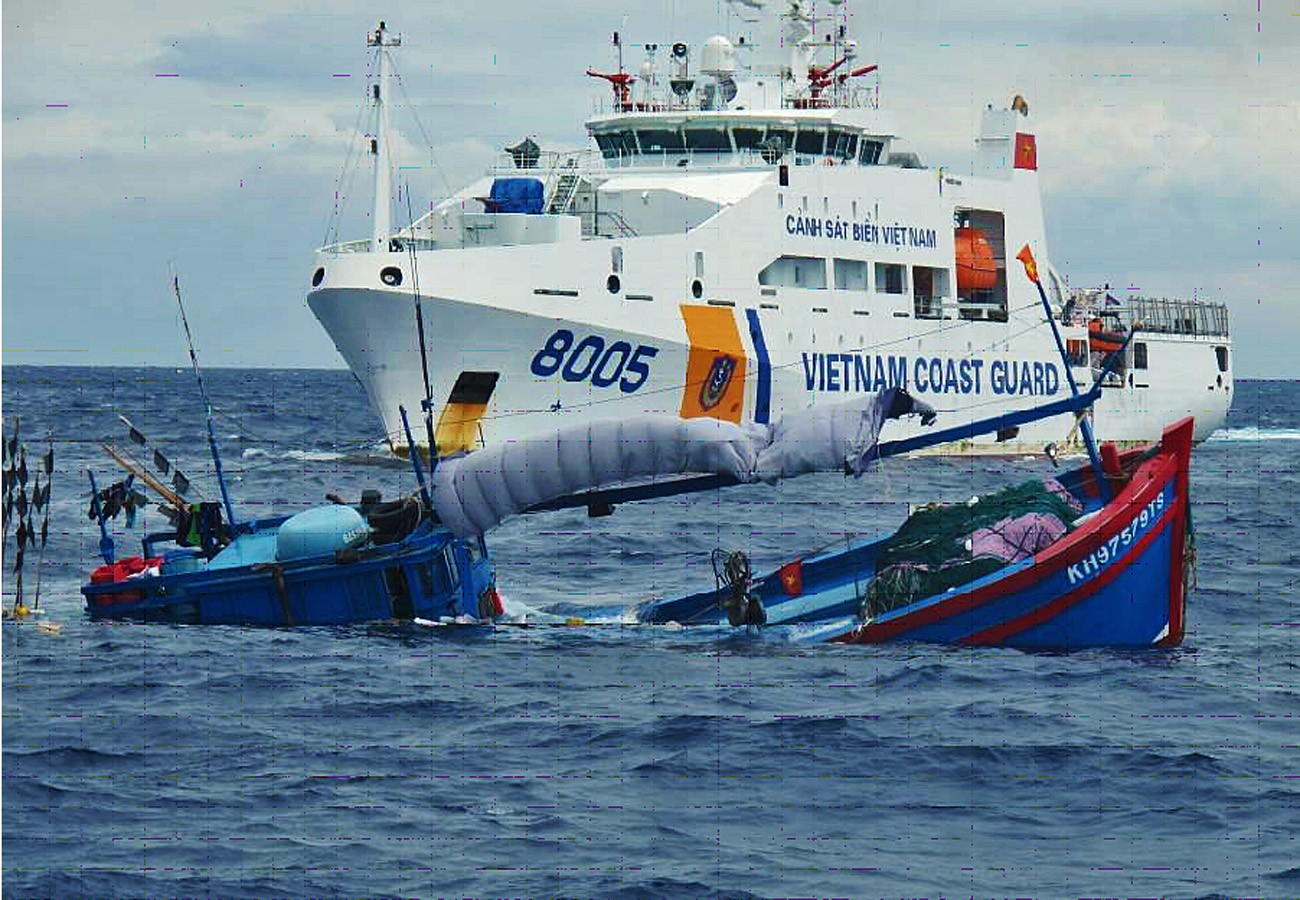 Vietnam Coast Guard 8005 vessel allegedly hit a Vietnamese-flagged fishing boat, which was previously caught by Indonesian authorities for alleged poaching in Indonesian waters. The boat sunk and Indonesian patrol personnel Danang Gunawan Wibisono, who was guarding it, was detained by the Vietnamese authorities. (The Jakarta Post/Source)
Vietnam released on Monday an Indonesian fisheries official who was recently detained by the Vietnamese coast guard after intercepting five Vietnamese fishing boats in waters allegedly claimed by both countries.
Danang Gunawan Wibisono, an officer from the Marine and Fisheries Ministry (KKP) who was taken into custody by Vietnamese coast guard officials last week, arrived in Jakarta on Monday following "intensive coordination through diplomatic channels" between the governments of Indonesia and Vietnam, KKP secretary general Rifky Hardjianto revealed.
"Gunawan was a crewmember onboard Hiu Macan 01 patrol ship and took part in the processing of five Vietnamese fishing boats captured on May 21 in the Natuna Sea, Riau islands," Rifky said in a statement to The Jakarta Post late on Monday.
The KKP official was evacuated to a Vietnamese coast guard ship when the captured boat he was inspecting – KH 97579 TS – capsized at the location it was seized. He spent a few days on board the coast guard vessel until it docked in Ho Chi Minh City, before the Vietnamese side handed him over to the Indonesian Consulate General there on Saturday, Rifky said.
The ministry's director general for marine and fisheries resources surveillance (PSDKP), Eko Djalmo, offered his thanks for the cooperation of all parties involved in Gunawan's return.
"We offer our heartfelt thanks and appreciation for all parties, particularly the Indonesian Embassy in Hanoi and the Consulate General in Ho Chi Minh City in Vietnam, for ensuring Gunawan's safe return home," Eko said in Monday's statement.
A PSDKP patrol unit attempted to arrest on Sunday morning, May 21, five Vietnam-flagged fishing vessels equipped with gill nets, squid fishing equipment and 55 crewmembers.
A Vietnamese patrol ship reportedly appeared just as the PSDKP was preparing to escort the vessels to its Batam base for processing. The patrol boat reportedly intercepted and rammed into one of the fishing vessels, which subsequently sank. (dmr)
Join the discussions