2018 marks Hublot's third time participating in FIFA World Cup
Elly Burhaini Faizal

The Jakarta Post
Moscow |

Sat, June 17, 2017

| 12:38 pm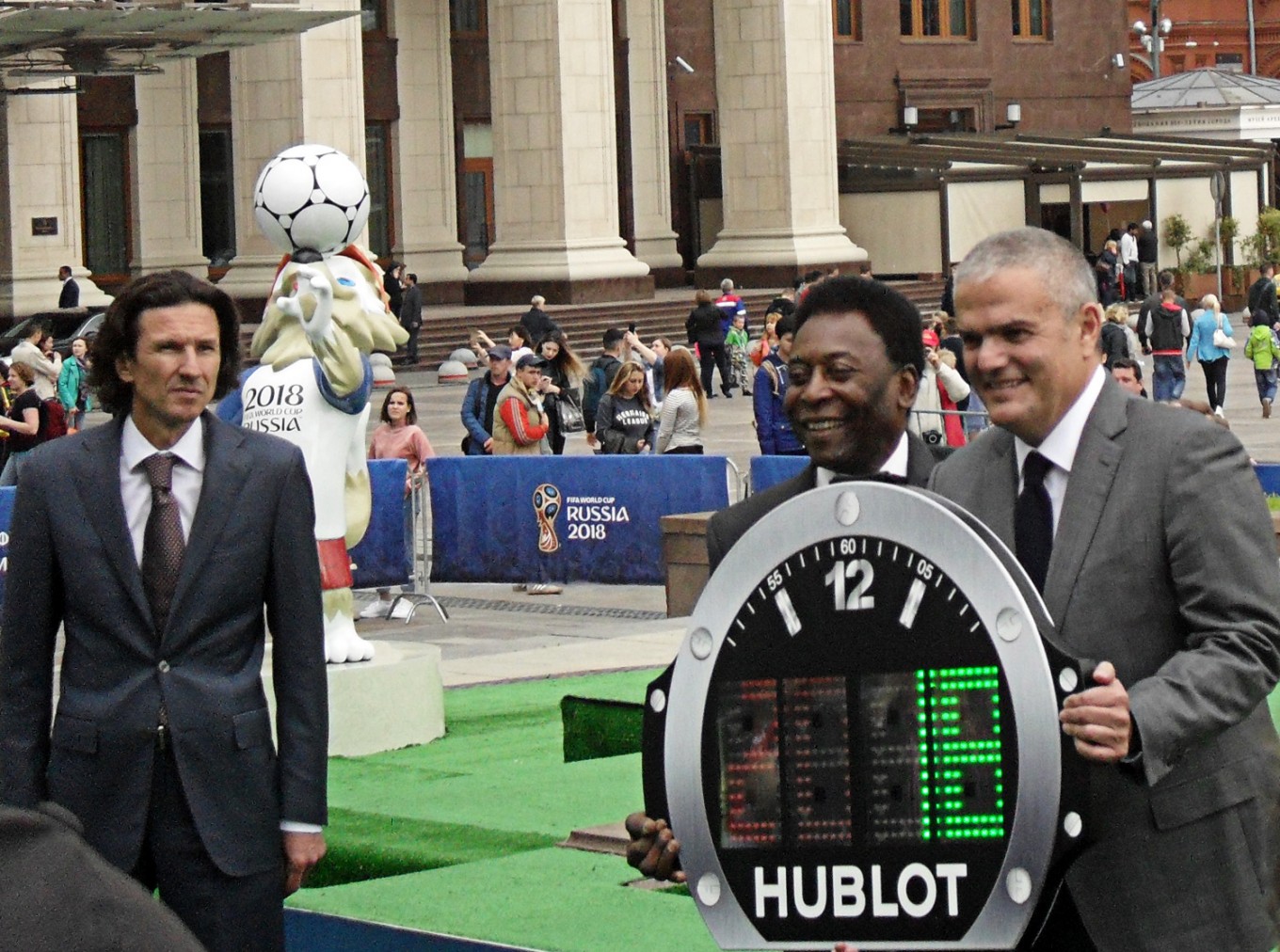 Gearing up: Retired Russian footballer Alexey Smertin (left) looks on as Brazilian football legend Edson Arantes do Nascimento, popularly known as Pelé (center) and Swiss watchmaker Hublot CEO Ricardo Guadalupe show the FIFA World Cup 2018's Hublot Countdown Clock at Red Square, Moscow, Russia, on Friday. (JP/Elly Burhaini Faizal)
Swiss watchmaker Hublot is set to become the timekeeper of the 21st FIFA World Cup, once again signalling its commitment to the football.
With Brazilian football legend Edson Arantes do Nascimento, popularly known as Pelé, as its brand ambassador, Hublot will serve the as the Official FIFA Watch and the Official FIFA Timekeeper of the 2018 World Cup, to be hosted by Russia from June 14 to July 15, 2018.
"Our slogan is #HublotLovesFootball. We also can say #HublotLovesRussia because to be here, in Moscow, for this great event, is fantastic for us – the Hublot," said Hublot CEO Ricardo Guadalupe during the FIFA World Cup 2018 1 Year to Go at Hublot Countdown Clock at Red Square, Moscow, Russia, on Friday.
(Read also: Eyes fixed on Russia as 2018 FIFA World Cup countdown celebrated in Red Square)
Hublot is also the official timekeeper of the 2017 Confederations Cup, hosted by Russia from June 17 to July 2, which will kick off in St.Petersburg at 6 p.m. local time on Saturday.
Choosing this precise moment, Hublot inaugurated its new store at the historic Metropol building, in the center of Moscow, on Friday.
Guadalupe said Hublot had been long involved as the first luxury brand to partner with the incredible sport.
"We started more than 10 years ago. We had the UEFA Euro Cup in 2008 in Switzerland, followed by Ukraine, Poland and France in last year," he said.
"We have an important partnership with FIFA, which we started in the 2010 World Cup in South Africa and then in 2014 in Brazil. Next year, it's going to be in Russia, and for us, we're so proud to partner with FIFA."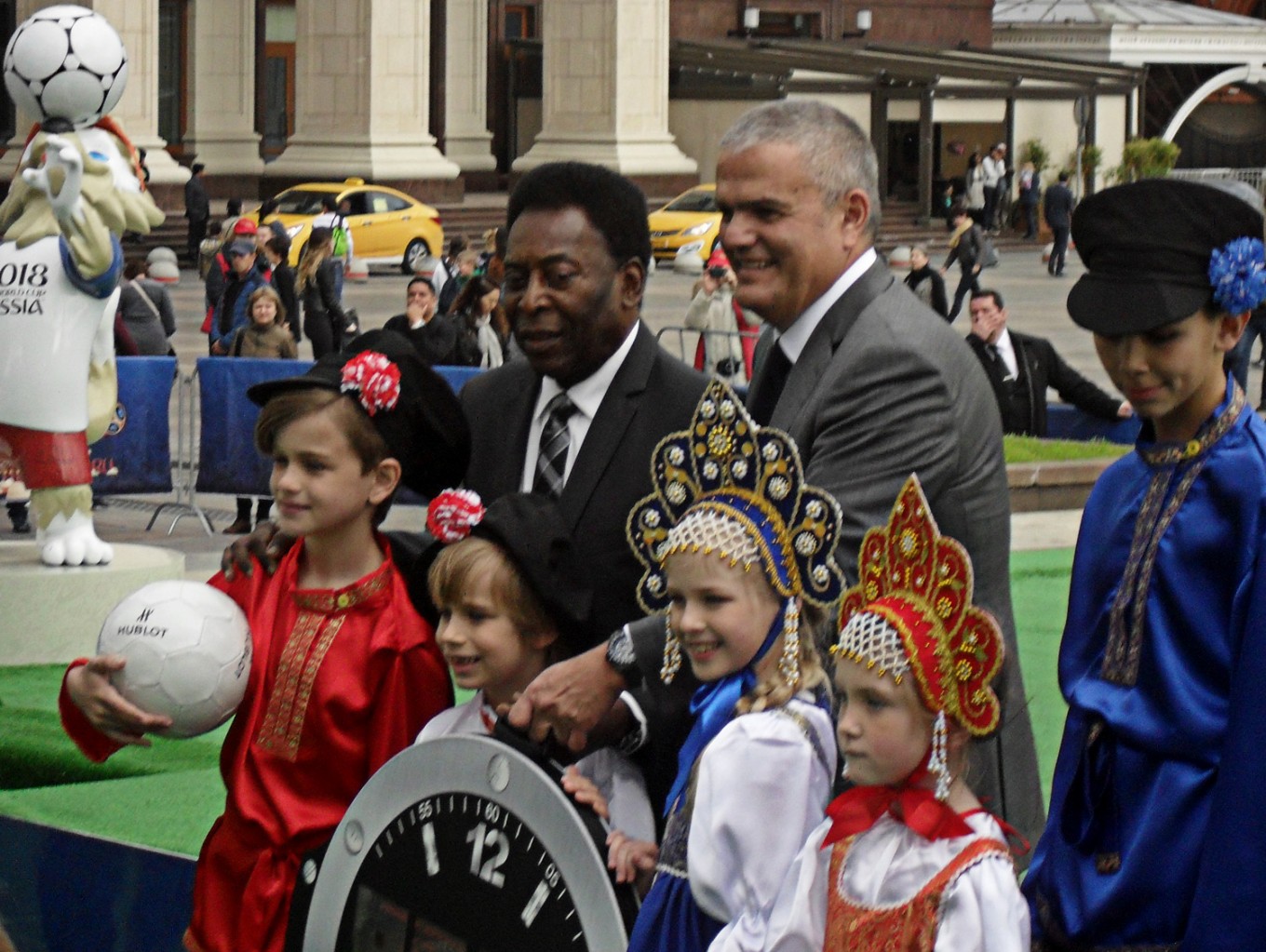 One Year to Go: Brazilian football legend Edson Arantes do Nascimento, popularly known as Pelé (back, left) and Swiss watchmaker Hublot CEO Ricardo Guadalupe (back, right) take a picture with children wearing Russian traditional costumes during FIFA World Cup 2018 1 Year to Go at Hublot Countdown Clock at Red Square, Moscow, Russia, on Friday. (JP/Elly Burhaini Faizal)
Topics :
Join the discussions