AACC appoints Malaysian justice as 2017-2019 president
Ganug Nugroho Adi

The Jakarta Post
Surakarta, Central Java |

Wed, August 9, 2017

| 12:29 pm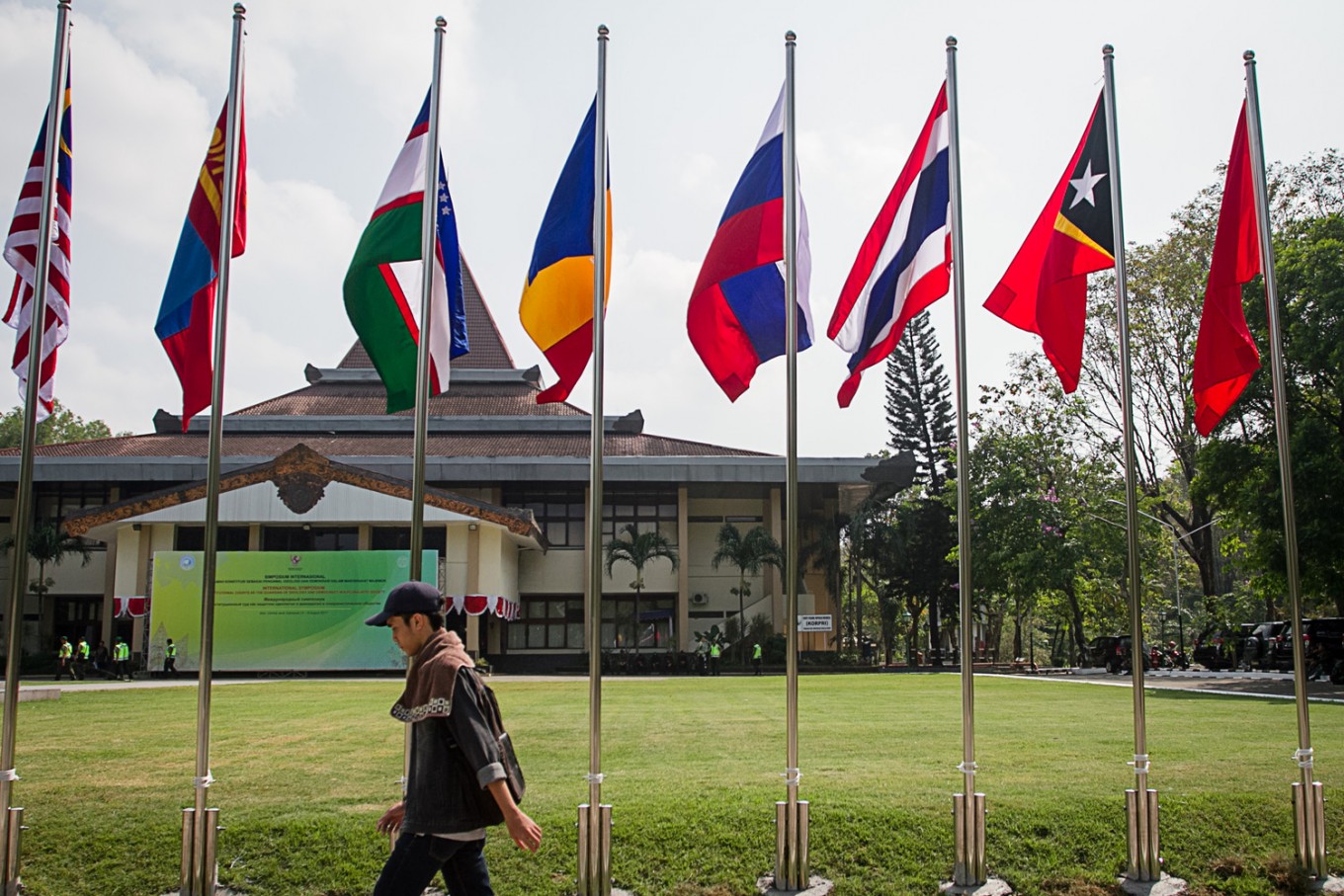 Upholding the law: A row of national flags representing the member countries of the Association of Asian Constitutional Courts and Equivalent Institutions (AACC) adorn a lawn in Surakarta, Central Java. The AACC is holding an international symposium in President Joko Widodo's hometown on Aug. 9-11. (Antara/Mohammad Ayudha)
The Association of Asian Constitutional Courts and Equivalent Institutions (AACC) has appointed Raus Sharif, head of Malaysia's Constitutional Court, as the association's president for the 2017-2019 term, the outgoing AACC president said on Tuesday on the sidelines of its international symposium in Surakarta, Central Java.
Sharif succeeds Indonesia's Constitutional Court chief justice Arief Hidayat, who led the AACC for the 2014-2017 term. The appointment was made by acclamation of the AACC symposium participants, who represent 12 countries.
Arief said Malaysia had conveyed its interest in the AACC presidency at the association's 2016 symposium in Bali.
"Raus directly accepted the appointment. The symposium has also agreed that after Malaysia, it will give the association's top post to Kazakhstan, followed by Mongolia and Thailand. All have agreed," he said.
The international symposium is scheduled to run through Thursday. Seven European and African countries are also attending the symposium.
President Joko "Jokowi" Widodo is to officiate the opening of an event on Wednesday themed "Constitutional Court as the Guardian of Ideology and Democracy in a Pluralistic Society".
The symposium has three key items on its agenda. First, it will elaborate on reports from the AACC secretariats in Indonesia, South Korea and Turkey.
Second, it will discuss the AACC's participation in the 4th Congress of the World Conference on Constitutional Justice (WCCJ), to be held on Sept. 11-14 in Lithuania. The inauguration of the new AACC president is the third item on the agenda.
The AACC was established in Jakarta in 2010 on the initiative of the constitutional courts in six countries: Indonesia, Malaysia, Mongolia, South Korea, Thailand and Uzbekistan. The association aims to promote democracy, human rights and law enforcement. (foy/ebf)
Topics :
Join the discussions