Dispute continues in Green Pramuka saga
Callistasia Anggun Wijaya

The Jakarta Post
Jakarta |

Thu, August 10, 2017

| 10:18 am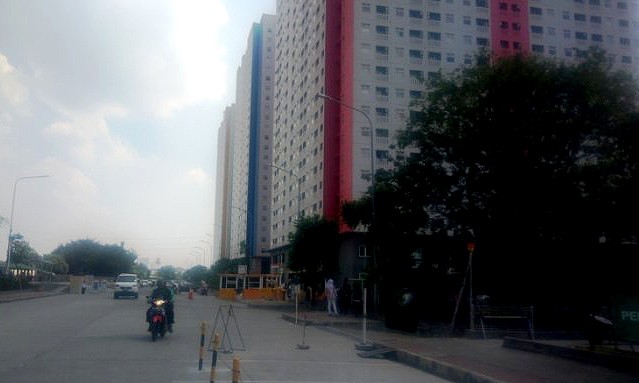 Green Pramuka City apartment building in Central Jakarta (Tribunnews.com/Amriyono Prakoso)
The dispute between Green Pramuka City apartment and a resident, Muhadkly, popularly known as "Acho," who has been named defamation suspect for writing a disparaging blog post about his experience as an apartment owner, is showing no signs of reprieve.
On Tuesday, the Jakarta Police, which have handed the case to prosecutors, invited Acho and the apartment's management firm, PT Duta Paramindo Sejahtera, to meet and settle the case out of court.
But the mediation failed as Acho declined the invitation. Acho's lawyer, Tomson Situmeang, said his client did not attend mediation because the investigator told Acho to apologize and delete his blog post containing criticisms about the apartment's poor management.
"Acho doesn't agree, unless the apartment management fulfills the demands of our client and other residents as written on the blog," Tomson said.
Two years ago, Acho expressed his complaints on his blog, claiming the management had failed to provide green space for the residents as advertised in 2013.
On Wednesday, the apartment fired back, accusing Acho for being uncooperative. The apartment's lawyer, Rizal Siregar, said Acho's complaints were based on misunderstandings. For example, he denied that the apartment had refused to issue ownership certificates.
"The apartment will issue the certificates once the development of all 17 towers is finished. The National Land Agency won't issue the certificates when development is still ongoing," he said.
Currently, the apartment has completed eight out of 17 towers. (wit)
Join the discussions