Russian war games aimed at provoking west
London, United Kingdom |

Sun, September 10, 2017

| 07:11 pm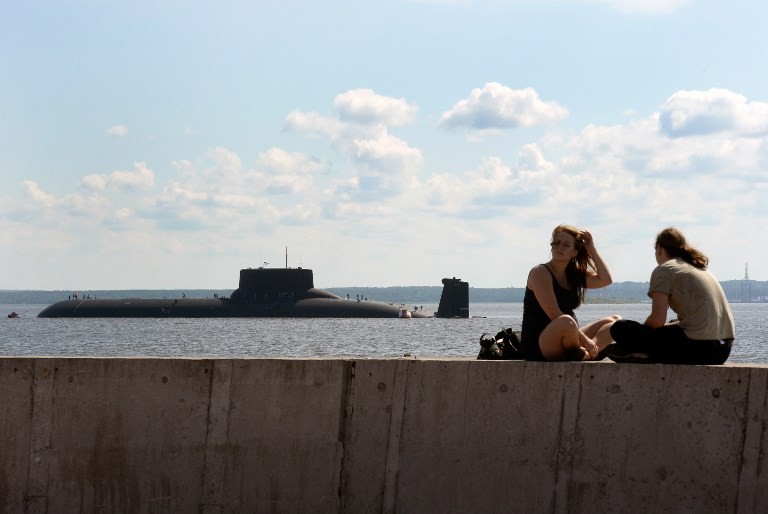 The Russian submarine Dmitry Donskoy (NATO - Typhoon class), the world's largest in active service, arrives at Kronstadt Navy base, outside Saint Petersburg, on July 26, 2017 to take part in the Naval Military Parade (Agence France -Presse/Olga Maltseva)
Russia is testing the West by conducting war games on NATO's eastern flank in its biggest military exercise in four years, UK Defense Secretary Michael Fallon said.
"This is designed to provoke us, it's designed to test our defenses, and that's why we have to be strong," Fallon said on the BBC's The Andrew Marr Show on Sunday. "Russia is testing us and testing us now at every opportunity. We're seeing a more aggressive Russia. We have to deal with that."
While Fallon said that more than 100,000 Russian and Belorussian troops are at the borders of North Atlantic Treaty Organization members, Russian Deputy Defense Minister Alexander Fomin said last month that the so-called Zapad 2017 exercise Sept. 14-20 involves 13,000 troops, and that the drills are "purely of a defensive nature."
Russia's annexation of Crimea and its involvement in eastern Ukraine have strained ties with the US and Europe, which are concerned about the scale of the military buildup in advance of the war games. NATO Secretary General Jens Stoltenberg said on the BBC on Sunday that Russia should allow western monitors to access the proceedings, in line with rules that require international observation of all exercises involving more than 13,000 troops.
"We have seen before that Russia has used big military exercises as a disguise or a precursor for aggressive military actions against their neighbors," Stoltenberg said. "That happened in Georgia in 2008 when they invaded Georgia, and it happened in Crimea in 2014 when they illegally annexed Crimea. So we call on Russia to be fully transparent."
Russia has a history of "under-reporting" the number of troops in its exercises and "using loopholes in international agreements to avoid international observation," he said.
Join the discussions