Event to showcase strides in innovation
Bangkok |

Mon, September 11, 2017

| 08:45 pm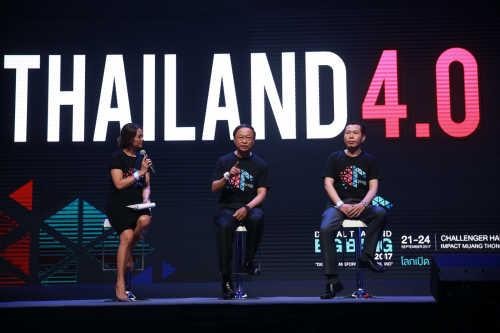 Thailand hosts Digital Thailand Big Bang 2017, billed as the largest international digital teaching event in Southeast Asia, from Sept. 21-24 at Impact Challenger Hall 1-2, Muang Thong Thani, in Bangkok. (The Nation/File)
The Ministry of Digital Economy and Society is gearing up to present Digital Thailand Big Bang 2017, billed as the largest international digital teaching event in Southeast Asia.
The four-day summit, from September 21-24 at Impact Challenger Hall 1-2, Muang Thong Thani, in Bangkok, will also showcase Thailand's progress towards becoming a digital hub in Asean.
The event will feature technological innovations, including the Transformer , and bring together dozens of top leaders in the digital technologies industry who will share their ideas and insights.
Pichet Durongkaveroj, Minister of Digital Economy and Society, said yesterday that Prime Minister Prayut Chan-o-cha has given his government a mandate to push Thailand towards becoming a digitalised nation in which technological innovations help drive economic growth.
"They are fundamentally important for the community, public healthcare services and digital workforce development that should be implemented at all levels of society," the minister said.
"To organise the Digital Thailand Big Bang 2017 under Digital Transformation Thailand concept helps promote the country's image as the use of technological advancements maximise economic growth and social welfare, and showcase Thailand's readiness for becoming an Asean digital hub."
He said that the government had recognised the significance of the digital economy and has launched various projects including high-speed Internet access for all villages and the setting up a government Big Data analytics centre.
"These projects aim to enhance connectivity, create new opportunities for people in communities, and harness data for better decision-making. These are examples of the Thai government's vision to lay a solid foundation toward Thailand 4.0 through digital transformation encompassing security, infrastructure, government, manpower and applications or so called SIGMA," Pichet said.

"One of the prominent initiatives that maximise the use of technological innovations and help boost up society and economy is the 'Pracha Rat Internet' that provides Internet accessibility to 24,700 villages in Thailand by the end of 2017. The master plan of smart cities across 77 provinces within 20 years, and planning on digital manpower development and management are also among the priorities.
"Furthermore, we need to focus on global connectivity by propelling the nation to become the destination for the seamless connection and transfer of Big Data and digital manpower movement in Asean, and implementation on a new economic cluster called Digital Park Thailand."
While Nuttapon Nimmanphat-charin, president and CEO of Digital Economy Promotion Agency (DEPA), said the international summit will help propel the nation for the next level of competitiveness and encourage new partnerships that create technology development, social change and investment returns.
"The event spreads knowledge, experience and practices about maximisation of digital technologies in economic growth and social development to the public, promote the entrepreneurship potential of the business sector, and boost employment. It also drives the whole nation towards digitalisation, helps it get ready for the changes ahead and enter the new economy and society.
This article appeared on The Nation newspaper website, which is a member of Asia News Network and a media partner of The Jakarta Post
Join the discussions