Photo of Turnbull with baby and beer stirs controversy in Australia
Jakarta |

Mon, September 11, 2017

| 03:48 pm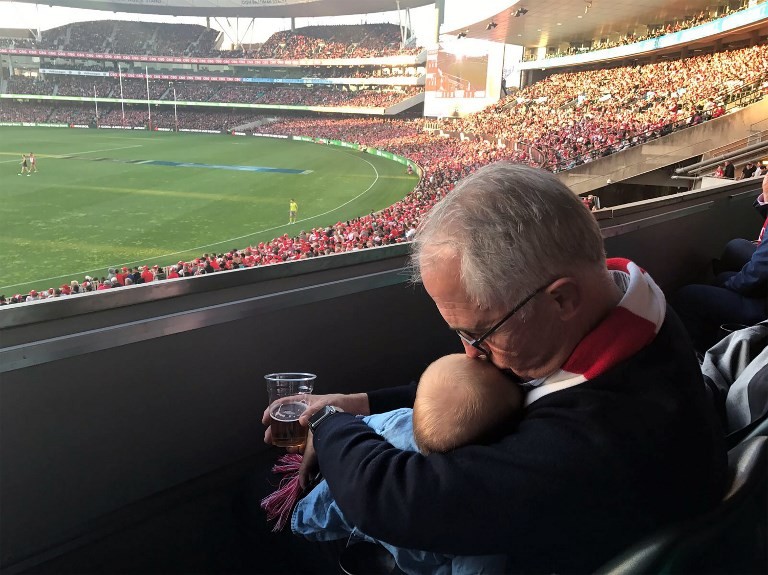 This handout from the Office of the Prime Minister via Facebook taken on Sept. 9, 2017 and released on Sept. 11, 2017 shows Australia's Prime Minister Malcolm Turnbull holding his baby granddaughter Alice during the Australian Football League match between the Sydney Swans and Essendon Bombers in Sydney. (Agence France -Presse/Handout/Office of the Prime Minister)
Australian Prime Minister Malcolm Turnbull has stirred a controversy over the weekend after posting a picture of him holding his infant grandchild Alice and a beer while watching a football match.
Turnbull posted the image on his Facebook page alongside the caption: "Multitasking at the footy."
The photo was swiftly met with criticism from netizens who frowned upon the presence of the beer.
Many of the Facebook users branded the prime minister as being "irresponsible."
One Facebook user commented: "Does anyone see anything irresponsible with an adult hold(ing) a baby and juggling a beer? And when was drinking while holding a child OK?"
Other said in the comment section: "I find it disgusting to see people breathing grog all over baby's but sadly I'm not surprised by Malcolm doing it."
Many, however, have come to Turnbull's defense.
Opposition lawmaker Pauline Hanson, who is also a fierce critic of the Prime Minister, said that "whingers" who attacked Turnbull over the photo should "get a life".
"These people are whingeing over nothing," Hanson told Channel Seven's Sunrise programme on Monday.
Turnbull himself has dismissed the criticism, saying that those who lashed out against him were "crazy" internet trolls.
"You've just got to be yourself...you end up being as crazy as the trolls on Twitter if you do anything else," he said.
Topics :
Join the discussions