Macron, Johnson visit hurricane-hit Caribbean
Jérôme Rivet

Agence France-Presse
Marigot, France |

Wed, September 13, 2017

| 10:46 am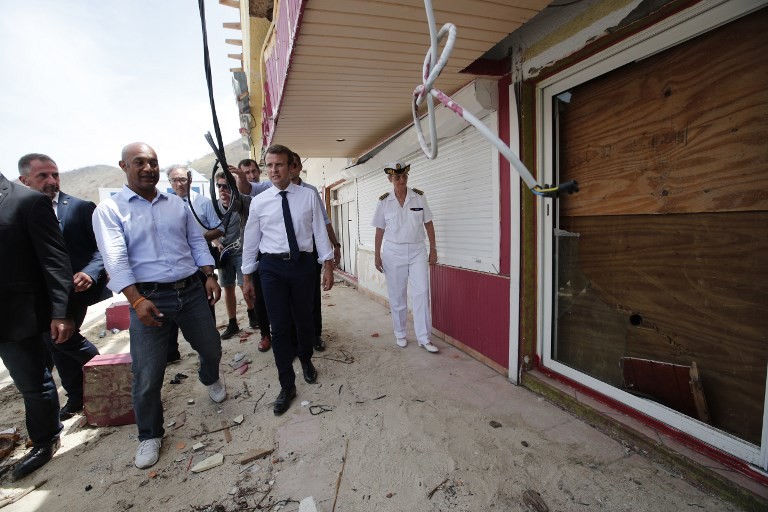 France's President Emmanuel Macron(center) walks with residents and officials in front of homes destroyed by Hurricane Irma during his visit to the French Caribbean islands of St. Martin on Sept. 12, 2017. (Agence France-Presse/Christophe Ena/Pool)
French President Emmanuel Macron and British Foreign Secretary Boris Johnson travelled Tuesday to the hurricane-hit Caribbean, rebuffing criticism over the relief efforts as European countries boost aid to their devastated island territories.
Macron's plane touched down in Saint Martin as anger grew over looting and lawlessness in the French-Dutch territory after Hurricane Irma.
Speaking in Guadeloupe earlier, Macron said the government began preparing "one of the biggest airlifts since World War II" days before Irma hit on Wednesday.
"Now is not the time for controversy," he said, adding: "Returning life to normal is the absolute priority."
The French, British and Dutch governments have faced criticism for failing to anticipate the disaster, with an editorial in The Telegraph newspaper calling the response "appallingly slow."
Touring Saint Martin, Macron was at times jeered by people waiting for aid supplies or hoping to catch flights for France in order to escape the devastation across the island.
"We've been here since six in the morning and we're still waiting, under a blazing sun," said one woman in a crowd of people hoping to leave as soon as possible.
Another woman asked: "Why are you here?"
But Macron said that "everybody who wants to leave will be able to," with officials saying that about 2,000 of the 35,000 residents on the French side of Saint Martin had already left in recent days.
Johnson arrived Tuesday in Bridgetown, the capital of Barbados, where he met with some of the nearly 1,000 military personnel sent to bolster relief efforts and security.
He was also expected to visit the British Virgin Islands and Anguilla.
"The UK is going to be with you for the long term," Johnson had told residents in a video message.
Join the discussions