Suu Kyi scraps UN trip amid Rohingya crisis
Yangon, Myanmar |

Wed, September 13, 2017

| 01:50 pm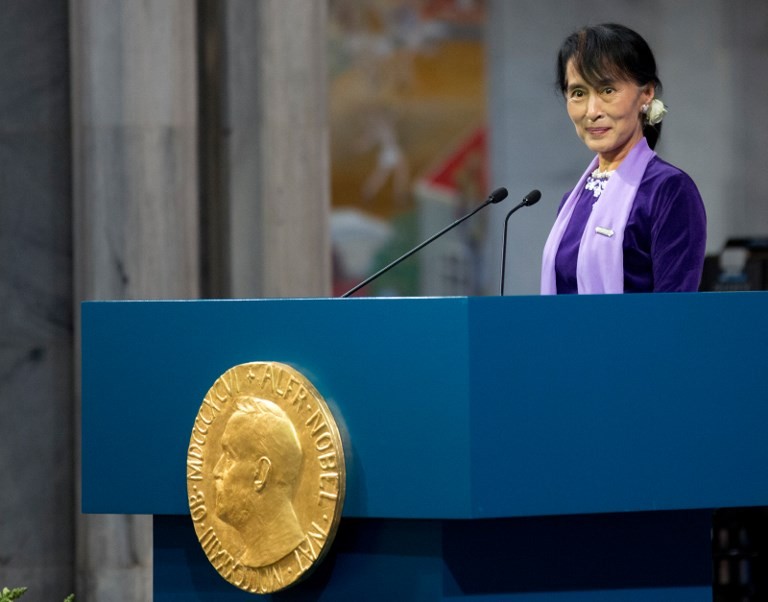 This file photo taken on June 16, 2012 shows Myanmar's Aung San Suu Kyi delivering her Nobel speech during the Nobel ceremony at Oslo's City Hall. Aung San Suu Kyi's global image is in tatters over her stubborn refusal to protect the Rohingya -- but her stance has been widely applauded inside Myanmar where hatred (Agence France-Presse/Daniel Sannum Lauten)
Myanmar leader Aung San Suu Kyi has scrapped plans to attend the United Nations General Assembly later this month, her spokesman said Wednesday, as the Nobel laureate faces intense global scrutiny over the Rohingya refugee crisis.
"The state counsellor won't attend the meeting of the United Nations General Assembly," said government spokesman Zaw Htay, using Suu Kyi's formal title.
The spokesman did not explain the decision but said the country's Vice President Henry Van Thio would attend the summit, which runs through next week.
The announcement comes after the UN human rights chief, Zeid Ra'ad Al Hussein, accused Myanmar of waging a "systematic attack" on Rohingya civilians and warned that "ethnic cleansing" seemed to be under way.
The UN's National Security Council also plans to meet Wednesday to discuss the crisis, which continues to deepen as the number of Rohingya refugees making it to Bangladesh soars to 370,000.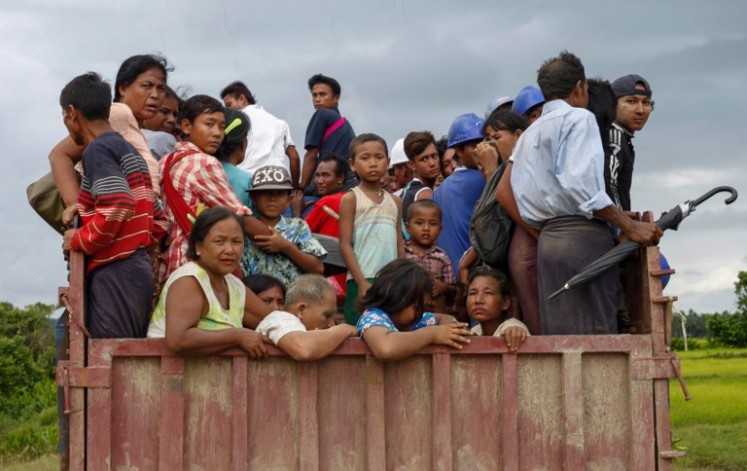 This picture taken on August 25, 2017 shows ethnic Rakhine people fleeing from a conflict area at the Yathae Taung township in Rakhine State in Myanmar. The impoverished western state of Rakhine neighbouring Bangladesh has become a crucible of religious hatred focused on the stateless Rohingya Muslim minority, who are reviled and perceived as illegal immigrants in Buddhist-majority Myanmar. (Agence France -Presse/STR)
They have fled violence that has torn through Rakhine state since August 25, when militants from the Muslim minority attacked police border posts triggering a major military crackdown.
Suu Kyi, a Nobel Peace Prize winner for her defiant democracy activism under Myanmar's former junta, was once the darling of the international community.
She made her debut before the UN assembly last September, after becoming former junta-run Myanmar's first civilian leader in decades, winning warm applause for her speech.
She vowed to find a solution to ethnic and religious hatreds in Rakhine "that will lead to peace, stability and development for all communities within the state."
In a sign of how far her star has fallen since, she has been pilloried by the same rights groups that campaigned for her release from house arrest for failing to speak up in defence of the Rohingya.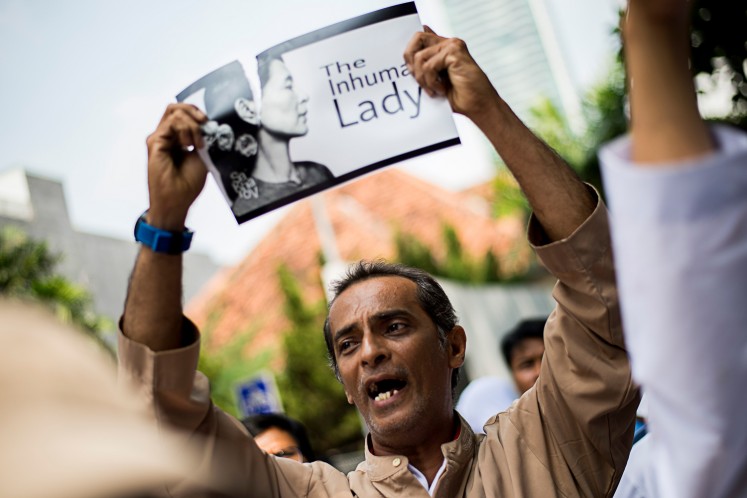 Humanitarian crisis: A protester tears up a picture of Myanmar's Aung San Suu Kyi during a rally in front of Myanmar Embassy in Jakarta on Saturday to protest the actions of Myanmar's army and the government of Aung San Suu Kyi. United Nations chief Antonio Guterres warned on Sept. 1 of a looming humanitarian catastrophe in western Myanmar and urged security forces to show restraint after hundreds were reported to have been killed in communal violence. (AFP/Bay Ismoyo)
Several fellow Nobel laureates have also condemned her silence.
Denied citizenship by Myanmar, the stateless Rohingya are loathed in Buddhist-majority Myanmar.
Refugees streaming into Bangladesh have arrived with horrifying stories of indiscriminate killings and arson attacks at the hands of soldiers.
While the US and other Western powers have rebuked the military campaign, Beijing offered words of support ahead of the UN Security Council meeting.
Join the discussions