Batik event in Malang promotes diversity, tolerance
Aman Rochman

The Jakarta Post
Malang, East Java |

Tue, October 3, 2017

| 04:50 pm Tourists from the Netherlands join the Paju Gandrung dance during the celebration of the National Batik Day at the Malang City Hall in East Java on Monday. (The Jakarta Post/Aman Rochman)
Hundreds of students from across Indonesia, wearing traditional attires from various regions, attended the Batik World Tolerance event to celebrate Batik National Day at the Malang City Hall in East Java, on Monday.
The participants come from eight areas namely Banyuwangi in East Java, West Kalimantan, Bali, West Nusa Tenggara (NTB), Surakarta in Central Java, Maluku and West Java.
They performed traditional dances such as Jonggan from West Kalimantan, Woleka from East Nusa Tenggara (NTT) as well as Gandrung and Paju Gandrung from Banyuwangi.
Read also: Klewer traders hold fashion show for Batik Day
A Dutch tourist, Steven, said that he stumbled on the event by accident. He said that through the event he came to know more about different Batik motifs in Indonesia.
"I just realized that I wore a Batik trouser by coincidence to the celebration. I came to Malang with seven other people on a history and culture tour package," he added.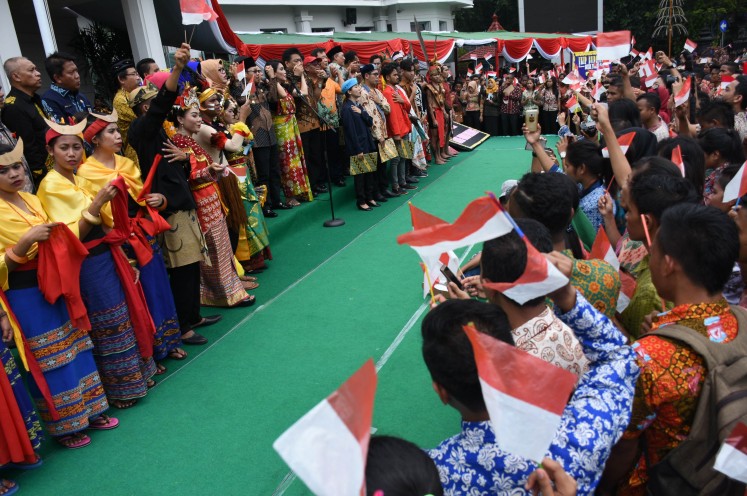 Hundreds of students wearing Batik attend the celebration of the National Batik Day at the Malang City Hall in East Java on Monday, Oct 2, 2017. The event was aimed at promoting Batik as a symbol of the nation's diversity and tolerance. (The Jakarta Post/Aman Rochman)
A 23-year-old student, Modesta Endang from West Kalimantan, wore a Batik costume with Mamuluki motif from Sumba, NTT.
"I exchanged the Batik with a college mate from NTT," she said.
Another student from NTT, Rosalia, wore a Batik costume from Banyuwangi with an Oling elephant motif.
Malang Deputy Mayor Sutiaji said Malang was one of the main destinations for higher education students of various backgrounds and cultures.
Sutiaji said the event would help students learn tolerance and respect diversity through Batik. (bbs)
Join the discussions