Tears in Damascus as Syria misses shot at World Cup
Maher Al-Mounes

Agence France-Presse
Damascus, Syria |

Tue, October 10, 2017

| 10:47 pm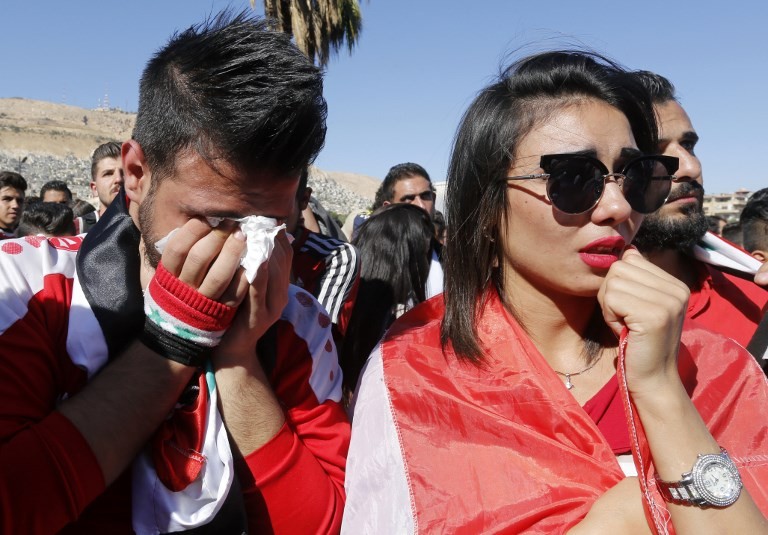 Syrians react after their national team lost to Australia in the World Cup qualifying play-off football match as they gathered at the Umayyad Square in Damascus on Oct. 10, 2017, where the match was being broadcast. After last week's 1-1 draw in Malaysia, Australia won 3-2 on aggregate to reach a final play-off against the fourth-placed team from the CONCACAF federation, currently Panama. (Agence France-Presse/Louai Beshara)
Syrians in Damascus collapsed into tears of disappointment Tuesday as their war-torn country's hopes of qualifying for its first ever football World Cup were dashed during extra time against Australia.
But in opposition-held territory, where some Syrians feel the national team has become a symbol of a government they despise, there were those who cheered Australia's 2-1 win.
The prospect of the Syrian team qualifying for football's biggest contest brought thousands of cheering fans into public squares and cafes across government-held parts of the country, including the capital Damascus.
Excitement had been building for days, and students lobbied to have lectures rescheduled so they could watch the game, which kicked off in Sydney at noon Syrian time.
Vendors hiked prices for Syria kit as demand soared for the red, black and white strip of the national team, nicknamed the Qasioun Eagles.
Dana Abu Shaar, 18, skipped university classes to watch the match at a cafe in the capital.
She was still clutching a national flag in her hand as she glumly contemplated defeat after Australia scored a crucial second goal in the second half of extra time.
"I was very excited and I expected the Syrian team to win, but now there's sadness and a lot of disappointment because we had reached a point where there was hardly anything between us and the championships," she said, her voice cracking.
"It's not just about football," she added. "The Syrian people needed this kind of joy, even if it came through sports. The Qasioun Eagles were hope to us. This is a people that has lived seven years of war and was waiting for joy, even if it came through a goal."
In the wake of the loss, Damascus streets emptied and shops closed early.
President Bashar al-Assad's office issued a statement praising the team as "heroes" despite their defeat.
"You painted joy on the faces of all Syrians," the presidency said.
Topics :
Join the discussions