Online-based drivers rally in Batam to demand return of confiscated taxi

Batam, Riau Islands |

Thu, November 2, 2017

| 09:43 am Harsh competition: Conventional taxis protest against ride-hailing counterparts in Surakarta, Central Java, on May 18. (Antara/Mohammad Ayudha)
Despite the newly enacted Transportation Ministry regulation on ride-hailing applications, protests remain rampant across the archipelago.
In Batam, Riau Islands, about a hundred app-based taxi drivers hit the streets in a rally on Wednesday, demanding that the city's transportation agency return the car of a fellow online taxi driver that was confiscated after pressure from conventional taxi drivers a day earlier.
The protesters also demanded that the city ensures their protection when they are on the road.
In a turn of events, dozens of conventional taxi drivers came to the scene and staged counter-protests against online taxi drivers. Authorities immediately dispersed the protesters to prevent any violence.
"Everyone is in the process of adapting. Therefore, a protest is normal. We want any demands to be voiced in a peaceful manner," agency head Yusfa Hendri said.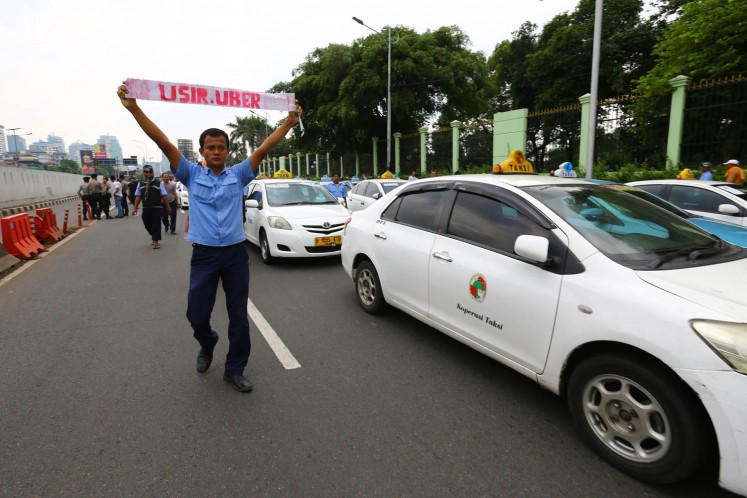 Conventional taxi drivers stage a rally against the ride-hailing services in front of the Merdeka Palace in Jakarta on March 14, 2016. (The Jakarta Post/Wienda Parwitasari)
Yusfa acknowledged that the full implementation of the new ministerial regulation would take time. While in transition, the conflict between conventional and online public transportation drivers would be inevitable, he added.
Read also: Protest against ride-hailing apps in Makassar turns ugly
A member of the Batam Legislative Council, Budi Mardiyanto, suggested that it would best for the authorities to listen to both parties' demands.
"We cannot deny advancing technology. In addition, the presence of online-based transportation is seen as a positive by the police," he said.
Online-based transportation would also be useful for the police in many criminal investigations, for instance, in tracing a crime suspect, Budi added. (bbs)
Join the discussions