RI, Malaysian police discuss partnership to combat drugs
Panca Nugraha

The Jakarta Post
West Lombok, West Nusa Tenggara |

Tue, November 7, 2017

| 03:27 pm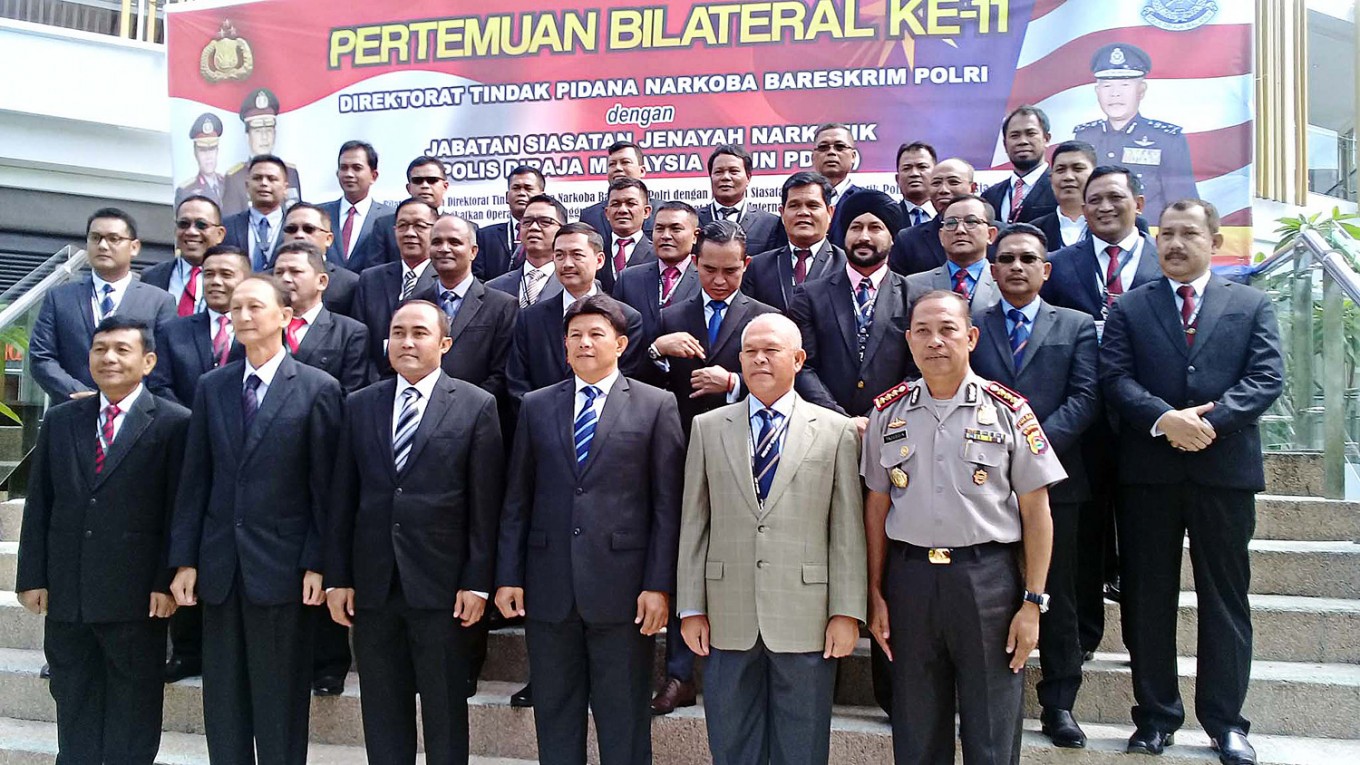 Tighter partnership: Representatives of the Indonesian National Police and the Royal Malaysian Police take a group photo on the sidelines of a bilateral meeting on Nov. 7 in West Lombok, West Nusa Tenggara. The two police forces discussed the possibility of cooperating on fighting transnational drug-related crimes. (JP/Panca Nugraha)
Representatives of the Indonesian National Police and the Royal Malaysian Police have sounded out a possible partnership for eliminating the distribution of illicit drugs during a bilateral meeting on Tuesday in West Lombok, West Nusa Tenggara (NTB).
The Lombok meeting is the 11th bilateral meeting between the two law enforcement institutions, which was first held in 2015.
Narcotics Criminal Investigation head Police Commissioner Datuk Seri Mohmad Bin Salleh and NTB Police deputy chief Sr. Comr. Tajuddin attended the meeting, which was closed to the public.
Eight members of the Royal Malaysian Police and 14 personnel of the National Police's Criminal Investigation Department (Bareskrim) were also present at the meeting, as well as the heads of several regional narcotics divisions from across Indonesia.
Bareskrim chief Comr. Gen. Ari Dono Sukmanto told journalists on Tuesday that the bilateral meeting discussed improving cooperation between the two countries' police forces, especially in battling drug-related crimes.
"We also exchanged the latest information and data, including new types of drugs and narcotics that we should be aware about. This partnership has been running for 11 years and we want it to grow stronger," he said.
Bareskrim's records show that as of September, the National Police had confiscated more than 2 tons of crystal methamphetamine. Meanwhile in Malaysia, the Royal Malaysian Police had seized more than 600 kilograms of crystal meth during the same period.
"We are facing similar problems," said Ari.
A long coastline and many small coastal islands in both Indonesia and Malaysia have made the two countries vulnerable to transnational drug crimes. (ebf)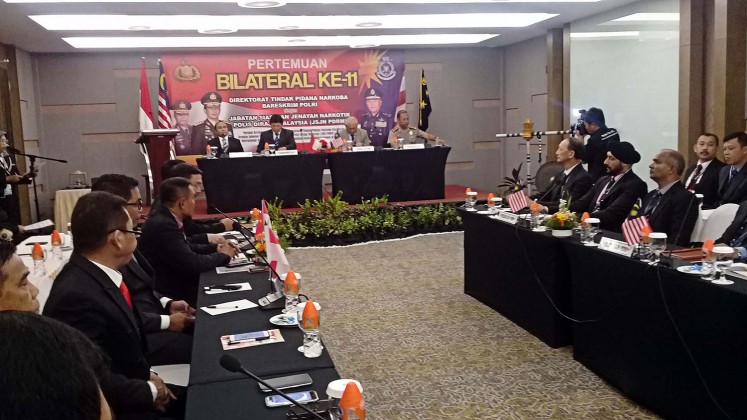 Fighting drugs: Narcotics officers from Malaysia and Indonesia discuss efforts to combat drug crimes at a bilateral meeting between the National Police and the Royal Malaysian Police on Nov.7 in West Lombok, West Nusa Tenggara. (JP/Panca Nugraha)
Topics :
Join the discussions