Worker rushed to hospital after being bitten by komodo dragon
Markus Makur

The Jakarta Post
Labuan Bajo |

Fri, December 1, 2017

| 06:44 pm Protected species: Komodo dragons are seen near a hut in Loh Buaya, Rinca village, Komodo district, West Manggarai, East Nusa Tenggara. (JP/Markus Makur)
Yosef Paska, 42, a construction worker at Loh Buaya Resort in Rinca village, Komodo district, West Manggarai regency, East Nusa Tenggara, was taken to Siloam Hospital in Labuan Bajo on Thursday for intensive medical treatment after he was attacked by a komodo dragon.
Yosef was bitten on his right hand and leg at 11:30 a.m. He was repairing the front office toilet at Loh Buaya Resort in Rinca Island when a Komodo dragon suddenly attacked him.
Komodo National Park head Sudiyono said on Friday that Yosef received several stitches to his right hand and leg. "The victim was moved from Loh Buaya, Rinca Island, by a speedboat owned by the Komodo National Park Management Agency. He suffered from a torn muscle to his right leg while he received a light injury to his right hand," Sudiyono said.
He said the agency left matters of health and safety at the resort in the hands of the workers construction companies. "We have reminded them about the behavior of komodo dragons. They have a natural instinct of attacking anything nearby," said Sudiyono.
The national park's spokesperson Margaretha Priska said 31 people had been bitten by komodo dragons in the conservation area. Baron Rudolf, the first person bitten by the rare species, died after he was bitten in 1974. Five people, including Rudolf, have reportedly died from the komodo dragon's deadly bite.
"Most of the victims lived on Rinca and Komodo Islands," said Margaretha. (hol/ebf)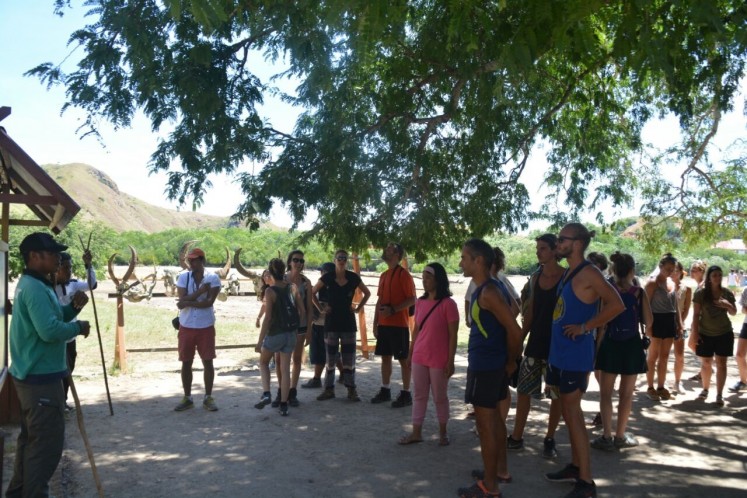 Safety first: A ranger (left) gives safety instructions to tourists visiting Rinca Island in West Manggarai regency, East Nusa Tenggara. (JP/Markus Makur)
Join the discussions