Landslide isolates two villages in East Manggarai
Markus Makur

The Jakarta Post
East Manggarai, East Nusa Tenggara |

Sun, December 3, 2017

| 10:33 am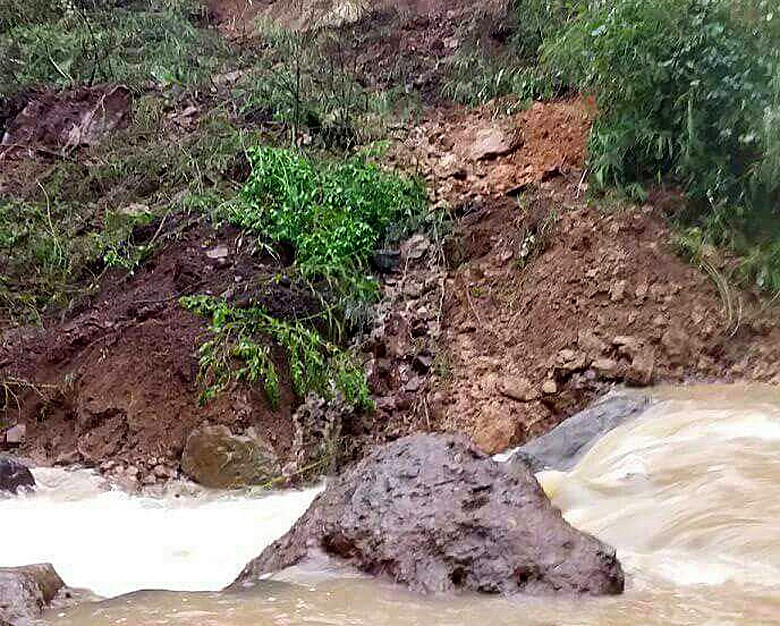 Extreme weather: A landslides on the Wae Ghera riverbank has cut off road access to people living in the villages of Rana Mbeling and Golo Nderu in East Manggarai, East Nusa Tenggara. (Courtesy of the East Manggarai Disaster Mitigation Agency/File)
Heavy rain in the past week has caused landslides in villages across East Manggarai regency, East Nusa Tenggara (NTT). Road access to the villages of Rana Mbeling and Golo Nderu has been completely disrupted following a landslide on the Wae Ghera riverbank.
"I urge all residents to refrain from attempting to cross the flooded river. Areas around the Wae Ghera river are not connected by a permanent bridge. […] The overflowing river and the landslide on the riverbank has completely cut these villages off," East Manggarai Disaster Mitigation Agency (BPBD) head Antonius Dergong told The Jakarta Post on Friday.
He added that the landslide had occurred right at the entrances of the villages.
Dergong headed to the site of the incident on Friday morning, along with operators of heavy equipment to remove thick mud and landslide debris.
Dergong said 30 houses in Kisol, Tana Rata subdistrict, were submerged by floodwater. Blocked drainage had caused the water to swell and submerge several houses. Heavy equipment and residents would clear the drainage canal.
Dergong explained that village heads in East Manggarai had urged all residents to clean up drainage systems for the sake of their safety. Extreme rain during this year's wet season posed a threat to residents, he said. (ami/ebf)
Join the discussions