Huge fire at Mumbai restaurant kills at least 14
Vishal Manvai

Agence France-Presse
Mumbai, India |

Fri, December 29, 2017

| 05:26 pm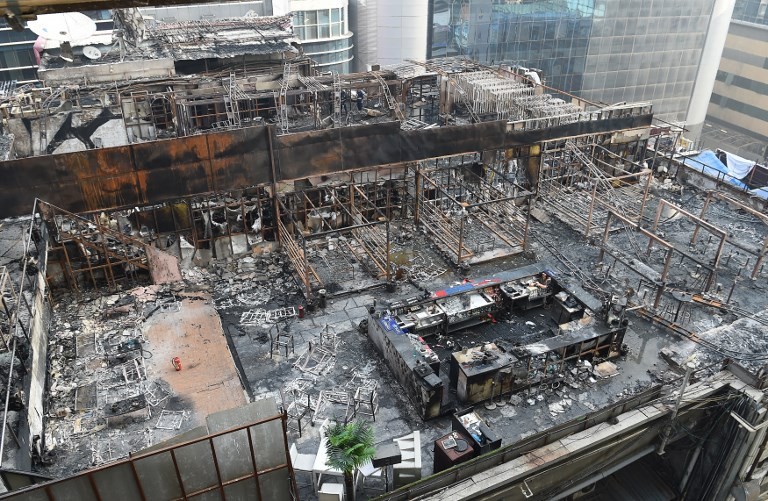 View of a burned building where a rooftop party was being held in Mumbai early on Dec. 29, 2017. Fire tore through a Mumbai building where a rooftop party was being held early on Dec. 29, killing at least 15 people and leaving many injured, police said. (Agence France -Presse/INDRANIL MUKHERJEE )
At least 14 people were killed when a huge blaze tore through a popular restaurant in Mumbai early Friday, police said, in the latest disaster to raise concerns over fire safety in India.
Many of the victims were young women who were attending a birthday party on the rooftop when the fire broke out. Doctors said they died of asphyxiation, apparently as they tried to flee the burning building.
Local media reported that a false ceiling had collapsed in the four-storey building in the Indian financial capital, trapping people inside as they tried to escape.
The fire was extinguished in the early hours but an AFP reporter at the scene said the rooftop where the party was taking place had been gutted, with blackened ice buckets and ashtrays strewn around.
"Fourteen people have succumbed to their injuries and remaining victims have been discharged from the KEM hospital. Most of the deaths were due to asphyxiation," Avinash Supe, dean of the local KEM hospital told AFP.
One woman who said she was in the building at the time told of the desperate scenes as people tried to escape.
"There was a stampede and someone pushed me," Sulbha Arora said on Twitter.
"People were running over me even as the ceiling above me was collapsing in flames. Still don't know how I got out alive. Some powers were definitely protecting me."
Accidental fires are common across India because of poor safety standards and lax enforcement of regulations
Eleven of the victims were female partygoers, according to authorities.
Topics :
Join the discussions