Iran hit by fifth night of protests
Eric Randolph

Agence France-Presse
Tehran, Iran |

Tue, January 2, 2018

| 01:55 pm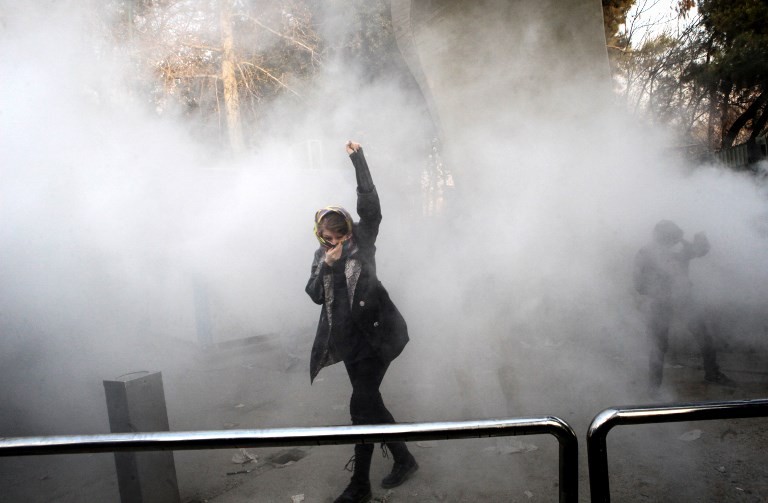 An Iranian woman raises her fist amid the smoke of tear gas at the University of Tehran during a protest driven by anger over economic problems, in the capital Tehran on December 30, 2017. Students protested in a third day of demonstrations sparked by anger over Iran's economic problems, videos on social media showed, but were outnumbered by counter-demonstrators. (Agence France -Presse/STR)
A fifth night of unrest in Iran saw a policeman killed and sporadic demonstrations in several parts of the country, local media and online users reported Tuesday, despite moves to crack down on the biggest protests against the regime in years.
Small groups of protesters ran through the streets of Tehran on Monday evening, before a heavy police presence restored calm, local agencies said.
The unrest remained focused on provincial towns and cities, although fewer videos on social media suggested less activity in many areas.
State television said one policeman was killed and three others wounded by fire from hunting rifles in the city of Najafabad in central Iran.
The latest demonstrations came despite President Hassan Rouhani's vow that the nation would deal with "rioters and lawbreakers".
Ali Shamkhani, secretary of Iran's Supreme National Security Council, described the unrest -- the biggest challenge to the regime since mass protests in 2009 -- as a "proxy war against the Iranian people".
"Hashtags and messages about the situation in Iran come from the United States, Britain and Saudi Arabia," he told local media.
Iran's intelligence ministry released a statement saying "instigators" have been identified "and will be dealt with seriously soon".
The Revolutionary Guards have yet to fully intervene against the protesters, but published photos on Monday of three wanted people and called on the public to report any "seditionist elements".
Rouhani has tried to play down the unrest, which began over economic grievances in second city Mashhad last Thursday but quickly turned against the Islamic regime as a whole with chants of "Death to the dictator".
"This is nothing," Rouhani said in a statement on the presidency website.
"Our nation will deal with this minority who chant slogans against the law and people's wishes, and insult the sanctities and values of the revolution."
Pro-regime rallies were held across several towns and cities -- reflecting continued support among a large conservative section of society.
A total of 13 people have so far been reported killed in the protests, including six killed by gunfire in the western town of Tuyserkan on Sunday and two others shot dead in the southwestern town of Izeh.
Two more, including a teenage boy, were run down and killed by a fire engine stolen by protesters in the western town of Dorud on Sunday -- a story emphasised on state television.
Reporting restrictions remained tight, but videos on social media continued to show widespread anti-government protests in many areas.
Topics :
Join the discussions