North Korea to send delegation to Olympics
Seoul, South Korea |

Tue, January 9, 2018

| 02:25 pm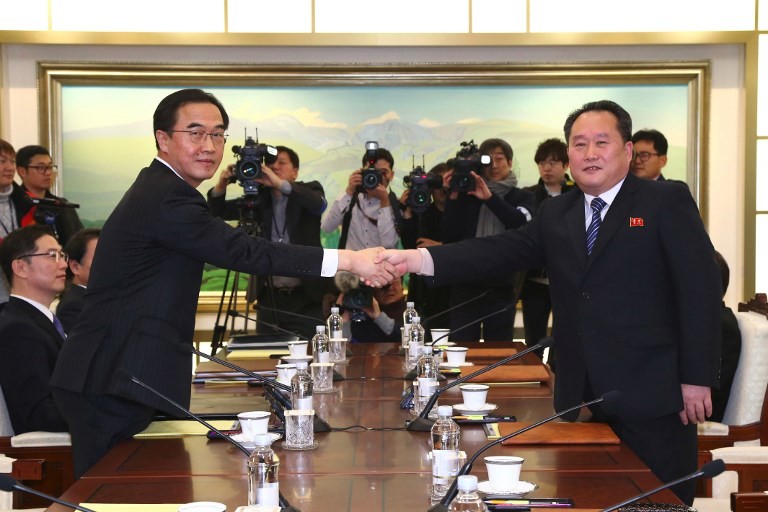 South Korea Unification Minister Cho Myung-Gyun (left) shakes hands with North Korean chief delegate Ri Son-Gwon (right) during their meeting at the border truce village of Panmunjom in the Demilitarized Zone (DMZ) dividing the two Koreas on Jan. 9, 2018. (Agence France -Presse/Korea Pool)
North Korea said it would send a high-level delegation to the Winter Olympics in South Korea next month while expressing a desire to resolve issues on the divided peninsula through dialogue and negotiations.
Kim Jong Un's regime plans to send officials, athletes, a cheering squad, art performers, observers, martial artists and reporters to the Games, South Korea Vice Unification Minister Chun Hae-sung said in a briefing on Tuesday after the two sides broke for lunch. They plan to continue discussions in the afternoon.
South Korean delegates proposed that both nations march together at the Olympics in the ski town of Pyeongchang, according to a pool report. The two sides held talks at Panmunjom, a village in the Joint Security Area along their heavily fortified border.
South Korea's proposal included:
Reunions of families divided by the Korean War during the upcoming Lunar New Year
Resumption of military dialogue
Stopping actions that create tensions on the peninsula
North Korea sending as big a delegation as possible to the Paralympics
Restarting talks on denuclearization
Read also: Koreas set for first official talks in two years
North Korea didn't react when South Korea mentioned denuclearization, Chun said. It didn't clarify its position on issues apart from the Olympics but agreed to more discussion, he said.
When asked if North Korea demanded anything to defuse tensions, Chun said: "It has its own position, which is different from ours."
With the temperature under zero degrees for the first meeting between officials from both Koreas in more than two years, Pyongyang's chief negotiator tried to break the ice with a joke.
"It wouldn't be an exaggeration to say that inter-Korean relations have been frozen more than the natural weather," Ri Son Gwon said in his opening remarks.
Officials from both sides were wearing Western-style suits, with the North Koreans donning red badges with pictures of former leaders Kim Il Sung and Kim Jong Il. The South Korean delegation, sporting the national flag and Pyeongchang Olympics on their badges, appeared to have more files in their bags than their counterparts.
The mineral water for the meeting was "Pyeongchang Water" -- named after the South Korean town where the Olympics will be held next month -- with red ginseng tea also available to perk up negotiators should the talks drag on. Catering was by Lotte Group, one of South Korea's biggest conglomerates.
Join the discussions