Police delay detention of Bandung child porn suspect
Arya Dipa

The Jakarta Post
Bandung, West Java |

Wed, January 10, 2018

| 08:52 pm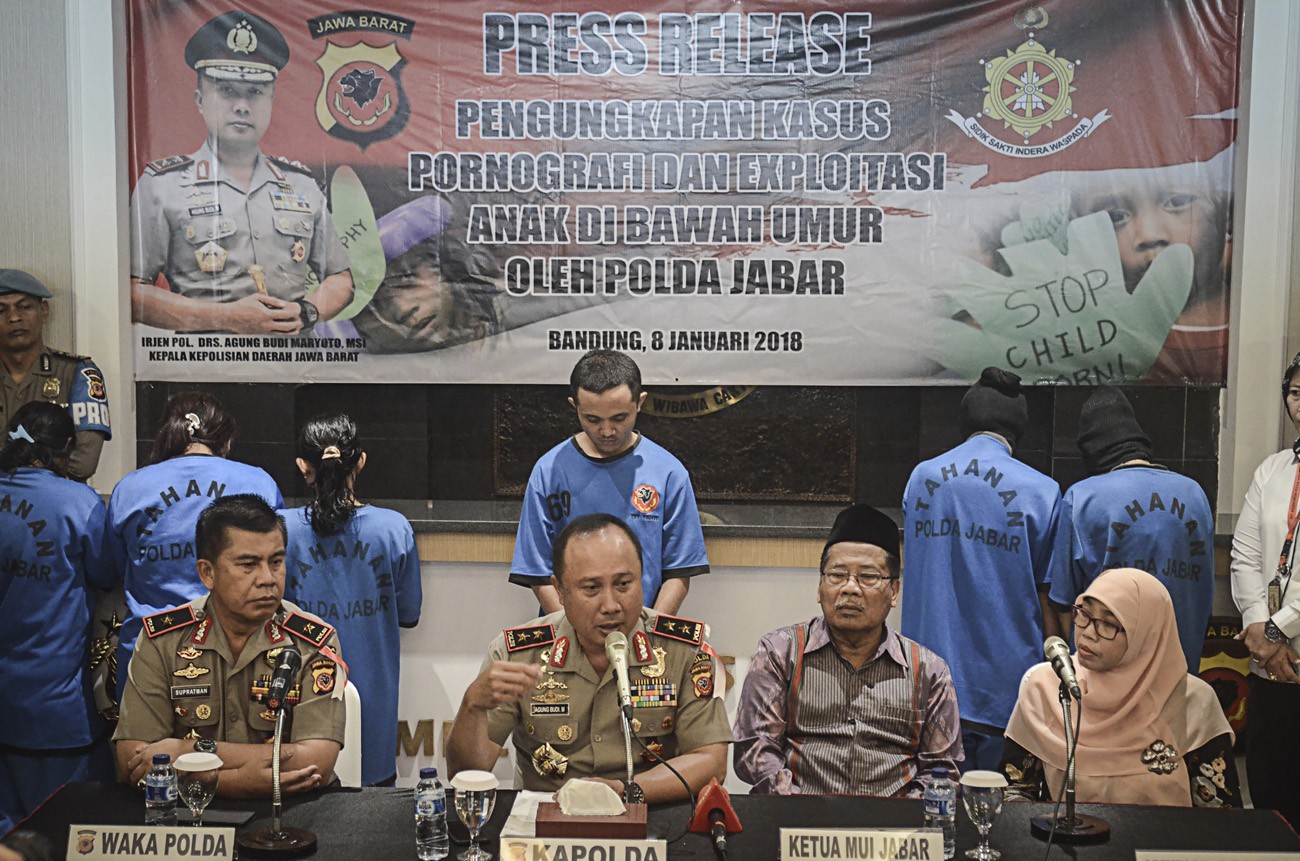 Exploitation: West Java Police chief Insp. Gen. Agung Budi Maryoto (center), accompanied by his deputy Brig. Gen. Supratman, Indonesian Ulema Council (MUI) head Rachmat Syafe'i (second right) and West Java Integrated Care Center for the Empowerment of Women and Children (P2TP2A) head Netty Heryawan, explains about the police investigation into a pornographic video case involving children, at a press conference on Jan.8. Suspect AMF (standing, center), who allegedly directed the pornographic movie, and other suspects were presented at the press conference. (Antara/Raisan Al Farisi)
The West Java Police have given a detention delay to one of the suspects of a recently uncovered child pornographic movie case, saying she is still 17 years old and therefore underage according to the 2002 Child Protection Law.
The suspect was also reportedly six months pregnant, the police added.
"Therefore, we have suspended her detainment and handed her over to the Integrated Care Center for the Empowerment of Women and Children [P2TP2A]," West Java Police chief Agung Budi Maryoto told The Jakarta Post on Wednesday.
As previously reported, the police have named six people suspects in the porn video case, which involved teen boys. They are the director of the videos, two females who appear in the movies, two mothers of the teen boys and a woman suspected to be the recruiter of the boys, who is still being pursued by the police.
Agung said the police had received information, which stated the suspect had fled outside Java. The police were still investigating the case.
"We are currently waiting for the result of the psychological assessment of one of the suspects," Agung said.
He further said the West Java Police were still waiting for the result of an investigation conducted by the police's cyber crime unit to confirm whether international child porn networks were involved in the case. (ami/ebf)
Topics :
Join the discussions