Candidate pair to face blank box in Karanganyar election
Ganug Nugroho Adi

The Jakarta Post
Surakarta, Central Java |

Thu, January 11, 2018

| 11:29 pm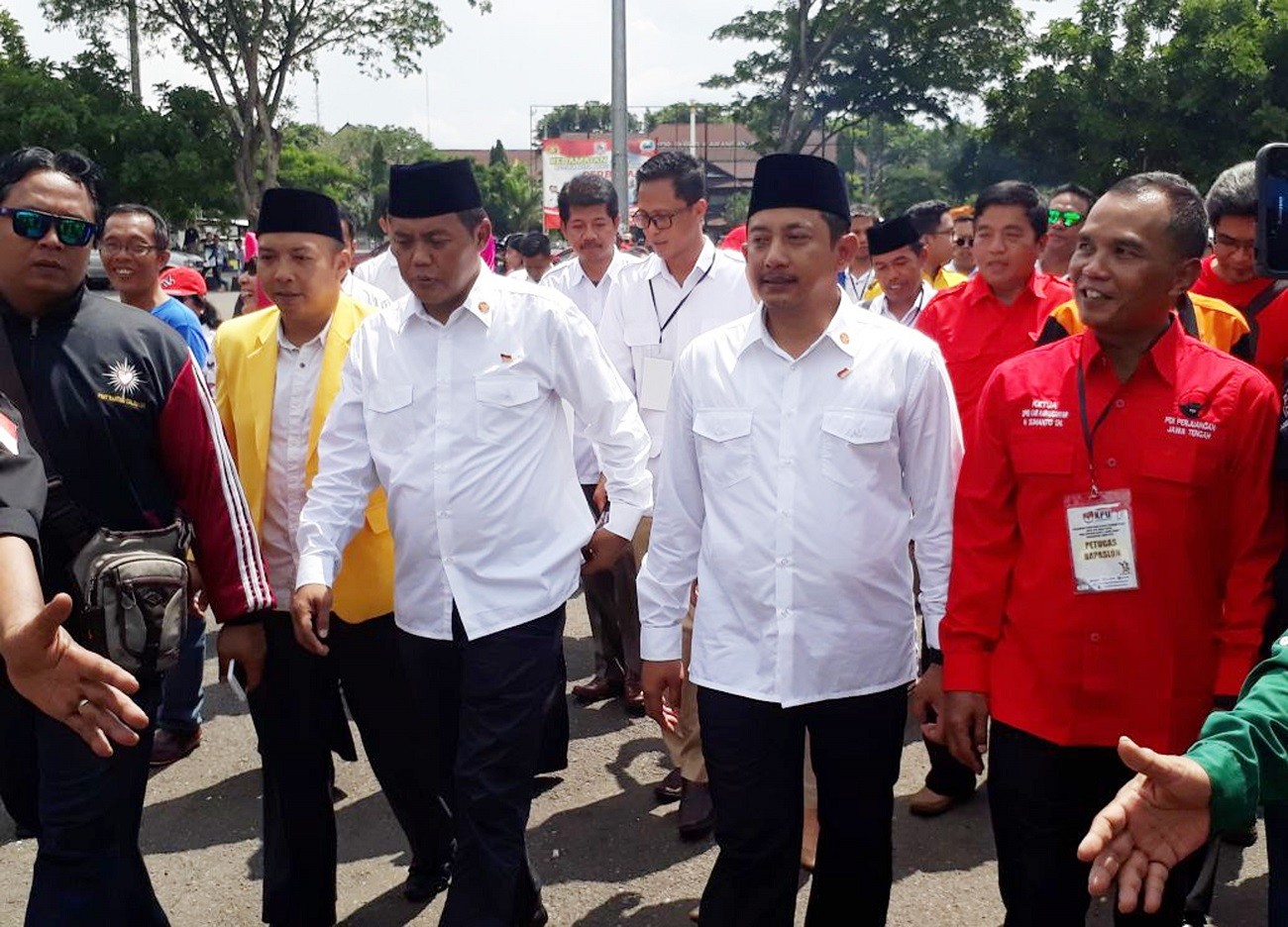 Upbeat: Karanganyar regent-deputy regent candidate pair Juliyatmono-Robert Christanto register their candidacy at the General Elections Commision (KPU) Karanganyar on Wednesday. The pair is likely to face a blank box in the race. (JP/Ganug Nugroho Adi)
The Karanganyar regency election this year is at risk of having only one candidate pair running in the race.
The sole candidate pair is incumbent regent Juliyatmono and his running mate Robert Christanto, who are supported by 39 out of 45 seats at the the Karanganyar Legislative Council (DPRD). The six remaining seats belong to the Prosperous Justice Party (PKS), which in 2013 supported Juliyatmono with the Golkar Party.
In 2018, the Juliyatmono-Robert pair is supported by Golkar, the Indonesian Democratic Party of Struggle (PDI-P), the Democratic Party, the National Awakening Party (PKB), the National Mandate Party (PAN), Hanura, and Gerindra.
This arrangement made it impossible for the PKS to propose a candidate because they would need at least nine seats. They would need to form a coalition, but other parties have declared their support for Juliyatmono and Robert.
Initially, PAN and Gerindra were going to form a coalition with the PKS. They later decided to join the main coalition. The door has also closed for proposing for an independent candidate because nobody had passed the General Elections Commission's (KPU) requirements.
"We are only granting the citizens' wish for Juliyatmono and Robert to win the election," campaign team member Sumanto said.
Incumbent deputy regent Rohadi Widodo said he had accepted that he could not join the 2018 race.
"My team has put forth so much effort, but we could not find a running mate by the end. We have accepted that we are not able to run for the 2018 election. I will finish my duty as deputy regent." (nmn/ebf)
Join the discussions