Trump says he doesn't expect war with North Korea
Jennifer Jacobs and Kanga Kong

Bloomberg
Washington, United States |

Thu, January 11, 2018

| 04:37 pm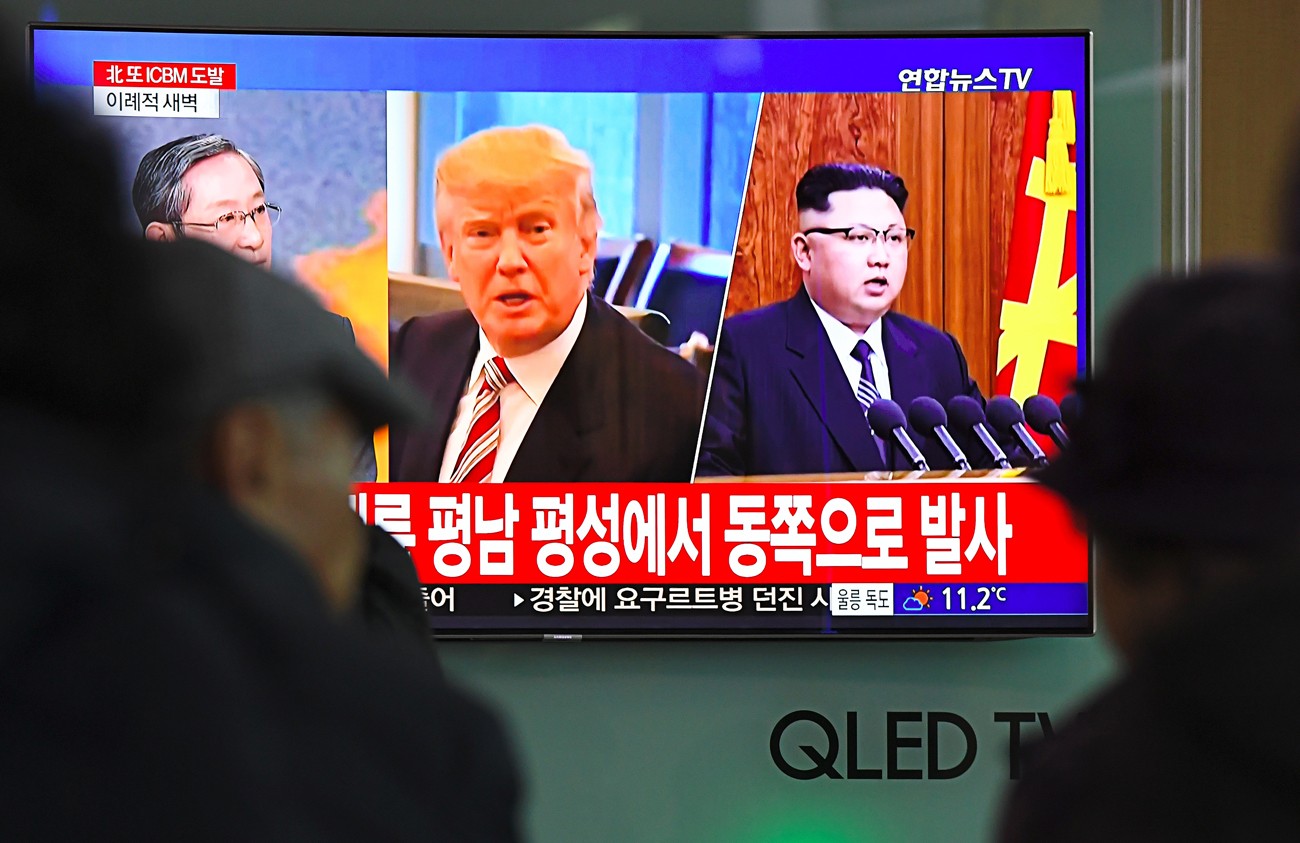 People watch a television news screen showing pictures of US President Donald Trump (center) and North Korean leader Kim Jong-Un (right) at a railway station in Seoul on Nov.29. North Korea test fired what appeared to be an intercontinental ballistic missile on Nov.29, in a major challenge to US President Donald Trump after he slapped fresh sanctions on Pyongyang and declared it a state sponsor of terrorism. (AFP/Jung Yeon-Je)
President Donald Trump predicted the crisis between the US and North Korea would be resolved without war, tamping down tensions that he has helped stoke in the region.
Trump brushed aside fears of an armed conflict at a White House news conference with Norwegian Prime Minister Erna Solberg on Wednesday. A Norwegian reporter asked about Marine Corps Commandant General Robert Neller's remarks to Marines in Norway last month in which the general predicted "a big-ass fight," according to Military.com, and his expectation that "there's a war coming."
"Maybe he knows something that I don't. No, I don't expect that," Trump said in the news conference. He said the US has "some problems" with North Korea, but commended recent talks between North Korean leader Kim Jong Un's regime and the South Korean government.
"A lot of good talks are going on now. A lot of good energy," he said. "Hopefully, a lot of good things are going to work out."
North Korea has become Trump's most urgent foreign crisis, as he struggles to contain the regime's rapidly advancing nuclear weapons and ballistic missile programs. Trump has said North Korea won't be allowed to develop a nuclear missile capable of striking the US, and has threatened war if economic sanctions and negotiations can't avert Kim's ambitions for such a weapon.
Trump earlier in the day promised South Korean President Moon Jae-in that he wouldn't attack North Korea while the two Asian nations hold negotiations, and added that he's open to direct US talks with Pyongyang under the right circumstances.
Trump and Moon spoke by phone Wednesday morning Washington time. Moon's office said that Trump promised not to take military action against North Korea while the inter-Korea talks are ongoing. The White House's readout of the call did not include the promise, but Trump later discussed the conversation with reporters at the White House.
"We had a very, very good conversation and we'll see where it goes," Trump told reporters during a photo session at the White House. "Without our attitude it would have never happened."
The latest developments come as South Korea prepares to host the Winter Olympics in the city of Pyeongchang beginning Feb. 9. North Korea agreed to send athletes to the games after talks with Moon's government on Jan. 9. The two sides agreed to further talks aimed at reducing tensions on the peninsula they share.
Moon and Trump agreed to continue a "maximum pressure campaign" against Pyongyang, the White House said in its statement. Moon's office said that Trump agreed that inter-Korean talks could lead to US-North Korea negotiations for denuclearization of the Korean peninsula.
The White House statement said that Trump told Moon that the US and North Korea could hold talks "at the appropriate time, under the right circumstances."
Kim has vowed never to give up his country's nuclear weapons, regarding them as his last line of defense against a US invasion. Technically, South Korea and the US remain at war with North Korea after the Korean War ended in 1953 with an armistice instead of a peace treaty.
Topics :
Join the discussions