Chinese county bans schoolchildren from mosques
Beijing, China |

Fri, January 19, 2018

| 06:45 pm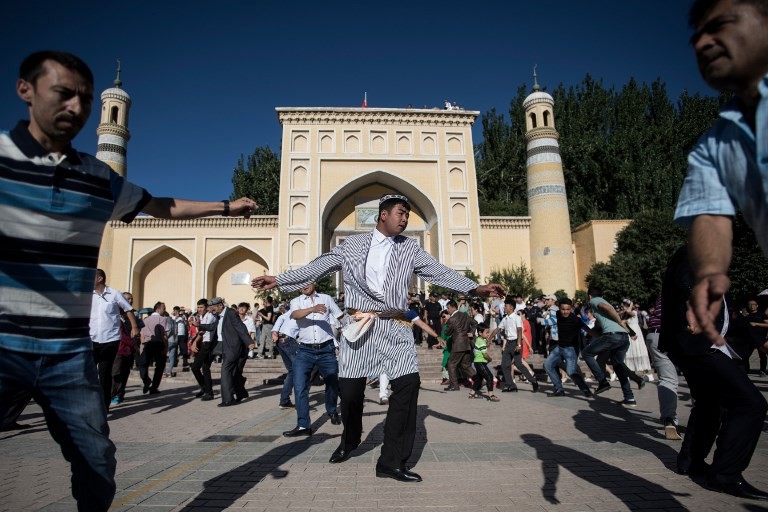 This picture taken on June 26, 2017 shows men dancing in front of the Id Kah Mosque after the morning prayer on Eid al-Fitr in the old town of Kashgar in China's Xinjiang Uighur Autonomous Region. (Agence France -Presse/Johannes Esielle)
Authorities in a Muslim-majority county in northwest China have banned schoolchildren from going to mosques during their winter holidays, a state-run daily reported Friday, the latest tightening of regulations on religious freedoms.
The decision was outlined in a notice sent to all high schools, primary schools and kindergartens in Gansu province's Guanghe county, according to the Global Times.
"Schools should require students to not enter religious venues for activities, nor attend scripture schools or religious venues for reading scripture during winter holiday," the notice read, according to the Global Times.
"Schools of all levels and kinds should further strengthen ideological and political work and enhance publicity work in order to inform each student and parent," it continued.
The notice was confirmed to the newspaper by the county's local publicity department. It was not clear why the restrictions were being enforced during the holidays.
Some 98 percent of Guanghe's 257,000 residents are ethnic minorities, many from the mostly Muslim Hui and Dongxiang groups, according to the county government's website.
An image of what appeared to be the notice circulated online, though AFP was unable to confirm its authenticity.
Guanghe is located within the Linxia Hui Autonomous Prefecture.
The Linxia prefecture education bureau told AFP that they had no knowledge of the matter, while the Guanghe county propaganda department hung up the phone.
In May 2016, Gansu's education bureau issued a notice stating that religious activities were forbidden in schools after a video of a kindergartener from Linxia reciting the Koran went viral, according to the Global Times.
China's officially atheist Communist authorities are wary of any organised movements outside their control, including religious ones.
Beijing has stepped up its crackdown on civil society since President Xi Jinping took power in 2012, tightening restrictions on freedom of speech and jailing hundreds of activists and lawyers.
The constitution guarantees freedom of religious belief, a principle that Beijing says it upholds.
Topics :
Join the discussions