Court backs House inquiry into KPK
Marguerite Afra Sapiie

The Jakarta Post
Jakarta |

Thu, February 8, 2018

| 06:10 pm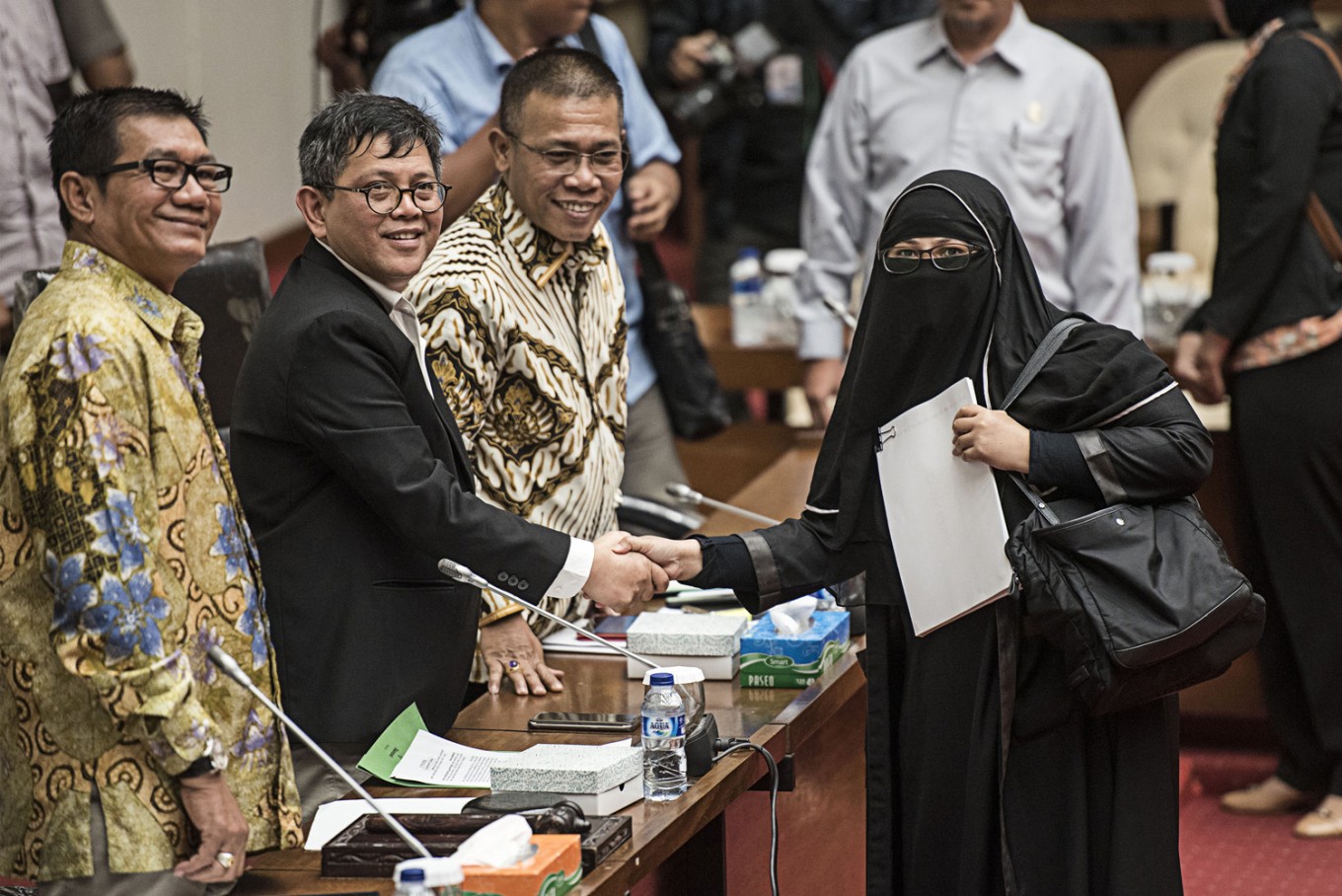 All set: Agun Gunanjar (left), the chairman of the House of Representatives' Corruption Eradication Commission (KPK) inquiry special committee, and his deputies, Taufiqulhadi (second left) and Masinton Pasaribu (third left) shakes hands with Permai Group's former deputy finance director Yulianis (right), who is also former subordinate of graft convict M.Nazaruddin, ahead of a hearing at the House of Representatives in Senayan, Central Jakarta, on July 24. (Antara/M.Agung Rajasa)
The Constitutional Court rejected on Thursday a petition to invalidate the House of Representatives' right to launch an inquiry into the Corruption Eradication Commission (KPK), saying that the inquiry is constitutional by law.
"The court rejects the petition," Chief Justice Arief Hidayat said while reading out the ruling.
The bench argued in its ruling that although the KPK was an independent body as referred to by the 2002 KPK law, it shared similar tasks with the National Police and the Attorney General's Office, which are part of the executive body, in eradicating corruption as mandated by the law.
The justices also ruled that the House, as the representatives of the public, had the right to probe the KPK's performance, except in the scope of law enforcement. However, they asserted that the KPK should not perform its tasks under pressure from the House.
"The paradigm of checks and balances in the governance system should not let any authority escape supervision. Therefore, there are no issues with the constitutionality on the norms [regarding inquiry rights]," justice Manahan Sitompul said.
The decision was handed down by a 5-to-4 majority. The four justices who offered a dissenting opinion in the case were Saldi Isra, Maria Farida Indrawati, I Gede Palguna and Suhartoyo.
The judicial review request was filed last year by three groups of petitioners, including law students and professors grouped in the Forum of Legal and Constitution and KPK employees.
They argued that the inquiry, which was launched amid the antigraft body's investigation into the high profile electronic e-ID graft case implicating dozens of politicians, aimed at undermining the KPK's task in eradicating corruption. (ahw)
Topics :
Join the discussions