Kalla appreciates proposal that he be allowed to run again
News Desk

The Jakarta Post
Jakarta |

Mon, February 26, 2018

| 06:25 pm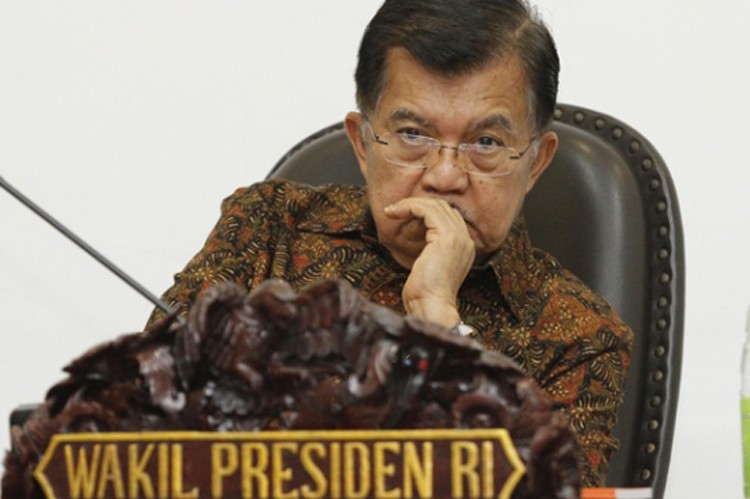 Vice President Jusuf Kalla. (tempo.co/File)
Vice President Jusuf Kalla has said he appreciates those who have suggested that he be paired with President Joko "Jokowi" Widodo again for the 2019 presidential election, but made clear that the idea should be in line with the Constitution.
"I appreciate the people who propose my name [as a candidate for vice president in 2019], but we must consider the regulation," he said, referring to Article 7 of the 1945 Constitution which bans a president and vice president from seeking a third term.
Kalla, who served as vice president with Indonesia's sixth president Susilo Bambang Yudhoyono from 2004 to 2009, said he understood the reason behind the limitation.
"We don't want what happened during the New Order to be repeated," he said as quoted by Kompas.com.
The Vice President, however, added that he was aware of the conflicting interpretations of Article 7 and that he would therefore leave the issue to legal experts.
Parties supporting Jokowi's re-election bid are now looking for the right person to be paired with him. Several names have been mentioned as potential candidates, including Kalla.
Indonesian Democratic Party of Struggle (PDI-P) officials seem to be divided over the issue, with one party official, Hasto Kristiyanto, saying it was impossible to nominate Kalla again and another official, Puan Maharani, saying that the party was still studying Kalla's eligibility.
Other than the PDI-P, Jokowi is also backed by the Golkar Party, the Hanura Party, the NasDem Party and the United Development Party (PPP). (srs/ahw)
Topics :
Join the discussions