At least 40 dead in Kathmandu plane crash
Kathmandu, Nepal |

Mon, March 12, 2018

| 08:00 pm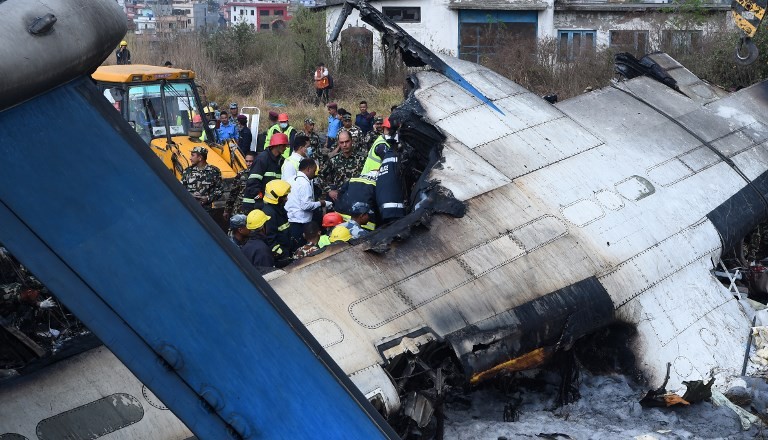 Nepali rescue workers gather around the debris of an airplane that crashed near the international airport in Kathmandu on March 12, 2018. (Agence France -Presse/Prakash Mathema)
At least 40 people were killed and 23 injured when a Bangladeshi plane crashed and burst into flames near Kathmandu airport on Monday, in the worst aviation disaster to hit Nepal in years.
Officials said there were 71 people on board the US-Bangla Airlines plane from Dhaka when it crashed into a football field near the airport.
Rescuers had to cut apart the mangled and burned wreckage of the aircraft to pull people out.
"Thirty-one people died at the spot and nine died at two hospitals in Kathmandu," police spokesman Manoj Neupane told AFP, adding another 23 were injured.
The cause of the crash was not immediately clear, but a statement from airport authorities said the plane was "out of control" as it came in to land.
Eye witnesses said the plane crashed as it made a second attempt to land.
Nepal Army spokesman Gokul Bhandaree said seven of the victims had survived the impact but later died of their injuries.
Plumes of black smoke could be seen rising from the football pitch where the plane crashed, to the east of the runway at Nepal's only international airport, in the capital Kathmandu.
Airline spokesman Kamrul Islam, told AFP 33 of the passengers were Nepali, 32 were Bangladeshi, one was Chinese and one from the Maldives.
The plane was a Canadian-made Bombardier Dash 8 Q400 turboprop, Mahbubur Rahman of Bangladesh's civil aviation ministry told AFP. Other sources said the aircraft was 17 years old.
"There might be technical problems on the aircraft. But it has to be probed before making a final statement," Rahman told AFP.
Join the discussions