Bekasi's odd-even traffic violators to be ticketed only after March 23: Official
News Desk

The Jakarta Post
Jakarta |

Mon, March 12, 2018

| 05:30 pm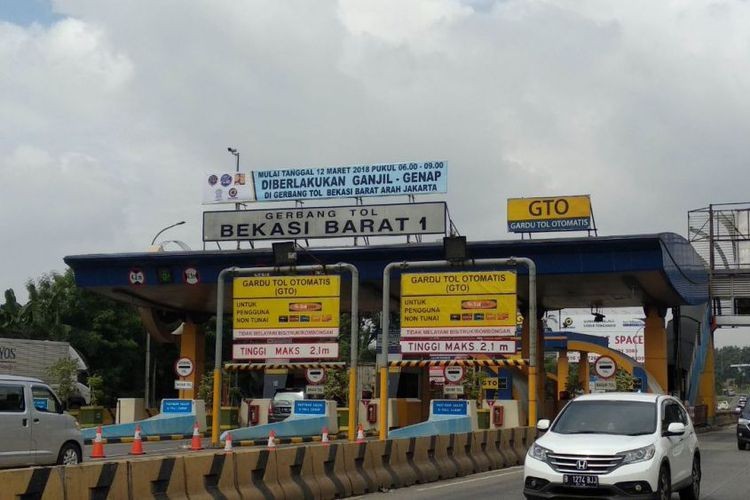 The West Bekasi toll gate on March 8, before the implementation of odd-even plate license policy. (kompas.com/Stanly Ravel)
In order to raise public awareness about the newly implemented odd-even license plate number policy at the West and East Bekasi toll gates, the police will familiarize it with the public until March 23, during which violators will not be ticketed.

"We should actually enforce the law, but we prefer to let drivers to turn around. We won't ticket them," National Police Traffic Corps chief Brig. Gen. Royke Lumowa said on Monday, as quoted by kompas.com.

The odd-even policy, which is being enforced to ease congestion at toll roads connecting Jakarta and Cikampek in West Java, as well as reduce the number of private cars entering Jakarta from the capital's outskirt, came into effect on Monday, after weeks-long awareness campaign.
The policy states that only cars whose license plate number ends in an odd number can pass through the toll gates on odd dates and vice-versa, from 6 a.m. to 9 a.m. on weekdays.
Over 7,000 cars entered the two toll gates during the morning daily peak, the Greater Jakarta Transportation Body (BPTJ) revealed, adding that congestion on the crucial toll road had been exacerbated by ongoing infrastructure construction, leaving them with no option but to enforce such a measure, despite opposition particularly from residents who relied on the road to reach Jakarta daily.

Bekasi Transportation Agency head Yayan Yuliana said he would study the effect of the policy to the congestion in other parts of the city. More than 100 cars, which were not eligible to enter the East Bekasi toll gate, were ordered to turn around and take alternative roads or shift to public transportation. (fac)
Join the discussions