Challengers to Jokowi, Prabowo face uphill battle, experts say
Nurul Fitri Ramadhani

The Jakarta Post
Jakarta |

Tue, March 13, 2018

| 06:48 pm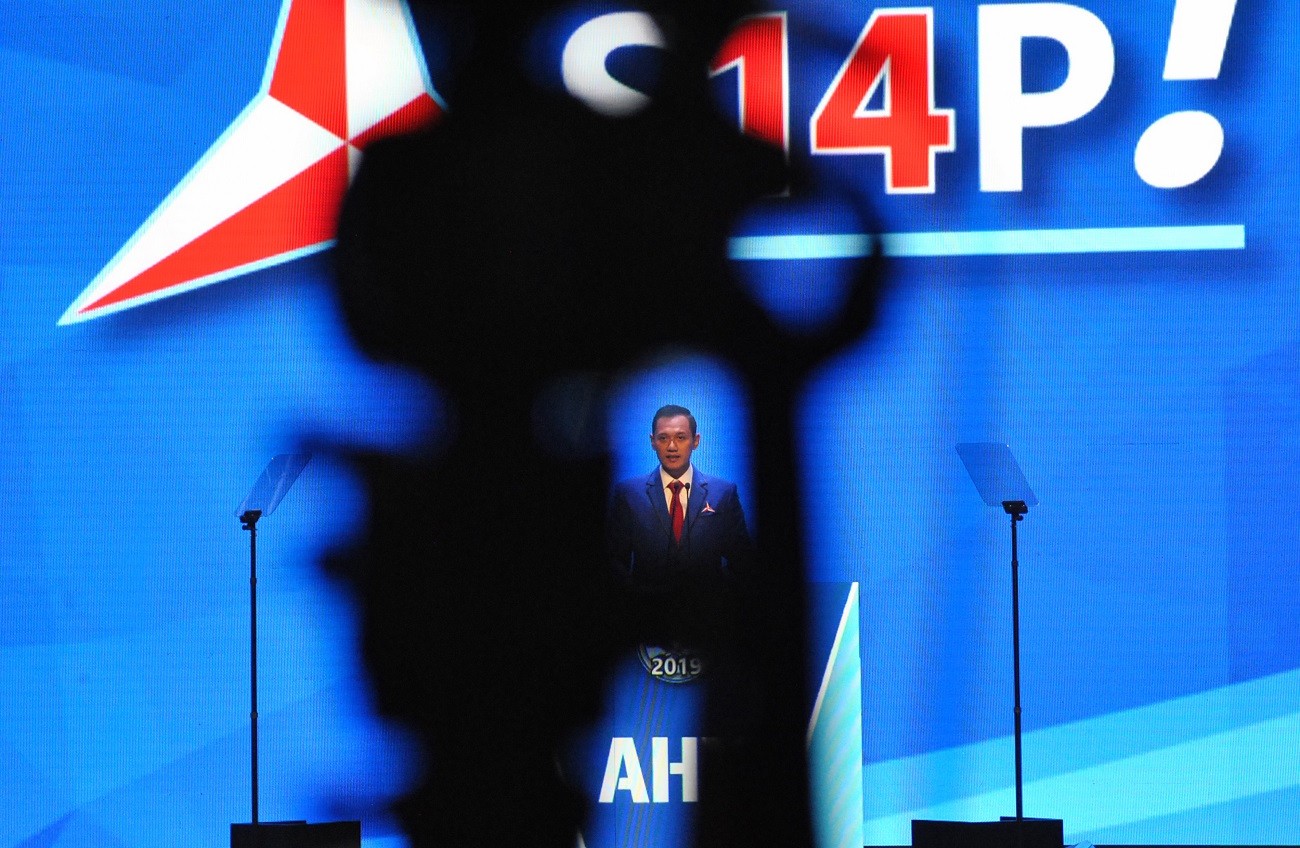 Standing firm: Democratic Party executive Agus Harimurti Yudhoyono gives a speech during the closing ceremony of the party's 2018 national leadership meeting at the Sentul International Convention Center in Bogor, West Java, on March 11. (Antara/Arif Firmansyah)
To prevent the 2019 presidential race from being concentrated on only two figures – incumbent President Joko "Jokowi" Widodo and Prabowo Subianto – the Democratic Party is forming its own coalition with newcomer politician Agus Harimurti Yudhoyono, son of former president and the party's chief patron Susilo Bambang Yudhoyono, as its central figure.
Agus, 39, who has been widely praised as a talented young political figure, was officially introduced to the public at the party's national leadership meeting in Bogor, West Java, last week.
The Democratic Party has approached the National Awakening Party (PKB) and the National Mandate Party (PAN), but the three parties have yet to make a final decision.
Political expert Muhammad Qodari from Jakarta-based pollster Indo Barometer said it would be difficult to challenge Jokowi and Prabowo.
The Democratic Party, which holds more House of Representatives seats than the PKB and PAN, only has Agus as a presidential hopeful. Experts have questioned whether PAN chairman Zulkifli Hasan or PKB chairman Muhaimin Iskandar will accept an Agus nomination given that they are much more experienced than him in politics.
(Read also: Parties yet to decide on third alliance)
Agus began his political career late in 2016, when he retired from his military career to contest in the Jakarta election.
"If Agus runs with Muhaimin, will Zulkifli accept that? Or if Agus runs with Zulkifli, what's left for Muhaimin?" Qodari said.
The Democratic Party, which requires help from the two parties to succeed, has only 61 seats at the House. The Election Law requires a party or coalition of political parties to secure a minimum of 112 House seats before nominating a presidential or vice presidential candidate.
The Democratic Party will likely insist on nominating Agus, who is more electable than Muhaimin or Zulkifli, according to several surveys. However, such a move risks alienating the PKB and PAN.
"The PKB and PAN can just go to either Jokowi's or Prabowo's coalition," Qodari said.
Speculation is rife that Yudhoyono might join forces with Jokowi's coalition, so long as Agus is Jokowi's running mate.
Political expert Emrus Sihombing of Pelita Harapan University said Agus was too young to be vice president. "He is still too young to sit as vice president, just like how he retired too early from his military career," Emrus said.
If Agus stepped ahead as a presidential or vice presidential candidate, it might irritate senior party members, Emrus said. "Other senior members who have been in the party for a long time and started from the very beginning might be jealous," he said. (ebf)
Topics :
Join the discussions