Swiss ship drops anchor in Jakarta on voyage of peace
Agnes Anya

The Jakarta Post
Jakarta |

Wed, April 4, 2018

| 07:27 pm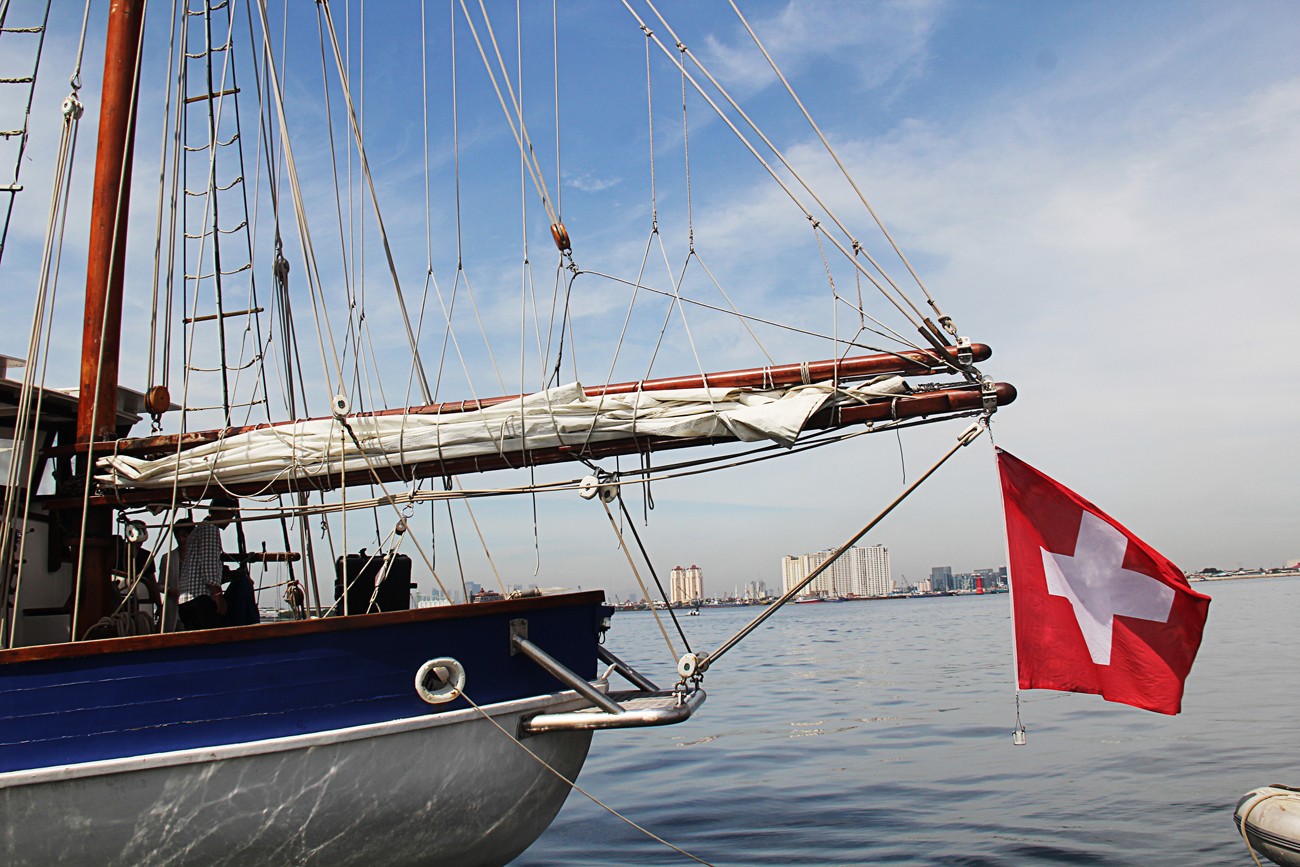 On peace mission: Swiss-flagged ship Fleur de Passion will berth in Jakarta from April 3 to April 12 in commemoration of the 500th anniversary of the worldwide cruise by Portuguese sailor Ferdinand Magellan. (JP/Stevenn Ephenn)
A ship from land-locked Switzerland has traveled across the globe and will stop over in Jakarta for 10 days.
The Fleur de Passion dropped anchor in Jakarta from April 3 in commemoration of the 500th anniversary of the worldwide cruise by Portuguese sailor Ferdinand Magellan. From Jakarta, it will then leave for a six-week crossing to Nosy Be, Madagascar.
Swiss Ambassador to Indonesia Yvonne Bauman said on the initiative of Geneva-based non-profit organization The Foundation Pacifique, the Fleur de Passion had been sailing on a research mission in science, education and marine mapping.
Given that Switzerland has no coastline, it was surprising that the ship could sail so far, she added.
"I am very surprised because as you know, Switzerland is surrounded by land. The ability to sail ships is nothing compared to Indonesia, which has a long coastline," said Baumann during her remarks aboard the Fleur de Passion in the port of Sunda Kelapa, North Jakarta, on Wednesday.
Sailing across the globe: Swiss-flagged ship Fleur de Passion started its voyage in Seville, Spain, on April 13, 2015. (JP/Stevenn Ephenn)
Pacifique Foundation vice president Samuel Gardaz said the ship, which was originally a World War II German minesweeper, was turned into a vessel with a scientific and educational mission in the 1970s.
"In French, Pacifique means the Pacific Ocean, but it also means peaceful. It's a mission we carry and it's important to mention," said Gardaz.
He explained that the Fleur de Passion started its voyage in Seville, Spain, on April 13, 2015, because there was no coastline in Switzerland. The route was that taken previously by Magellan, who was trying to map the oceans of the earth.
Leaving Seville, the ship stopped in Brazil and a number of ports on the American continent. Entering the Pacific Ocean, the Fleur de Passion stopped in Samoa and the Solomon Islands before it visited Brisbane and three other ports in Australia.
"In Asia, we've stopped in Cebu, Ternate, Singapore, Kuching and Jakarta," Gardaz continued. From Asia, this ship will sail to Africa and will end the voyage in Rabat, Morocco. "We are still two-thirds of the way. There are still 17 more months after Jakarta." (ebf)
Topics :
Join the discussions