Opposition questions Jokowi's policy on foreign workers
Moses Ompusunggu

The Jakarta Post
Jakarta |

Fri, April 20, 2018

| 05:45 pm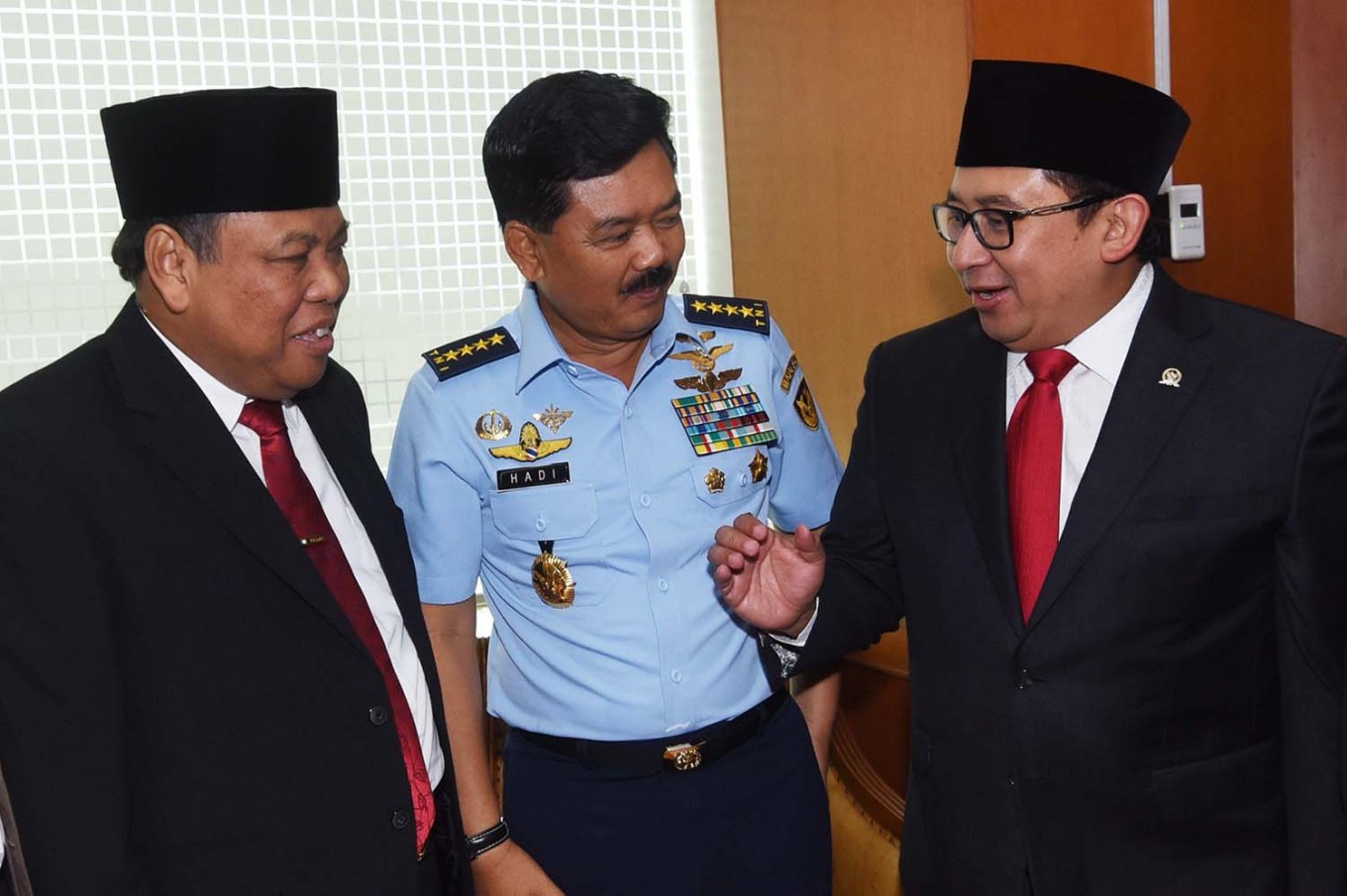 House of Representatives deputy speaker Fadli Zon (right) chats to Indonesian Military commander Marshall Hadi Tjahjanto (center) and Constitutional Court Justice Arief Hidayat in the House earlier this year. (Antara/Akbar Nugroho Gumay)
An outspoken opposition politician has lambasted a recent move by President Joko "Jokowi" Widodo to relax the recruitment process for foreign workers.
Fadli Zon, a House of Representatives deputy speaker from the Gerindra Party, said his party was considering proposing the establishment of a special committee to seek an explanation from the administration about the policy.
In March, Jokowi issued a Presidential Regulation on the recruitment of foreign workers, which aims to ease the visa process for foreign workers, especially in the education sector.
The Manpower Ministry said the regulation also aimed to provide legal certainty for foreign workers in Indonesia. Under the new regulation, foreign workers must obtain a working visa from the outset, rather than a business visa as required in the previous system.
"This policy, I think, has gone in the wrong direction. Jokowi said on the campaign trail that he would create 10 million job opportunities for Indonesians," Fadli said in a statement. "But after three years in power, the administration is continuously relaxing the regulation for foreign workers."
On Friday, Taufik Kurniawan, another House deputy speaker, said the ministry had to explain the regulation to all Indonesians to prevent a misunderstanding.
"The policy is likely to cause losses. The screening process is rather easy for foreigners to pass. There is also no qualification of workers," said Taufik, a National Mandate Party (PAN) politician, as quoted by Antara.
PAN is officially a member of the ruling coalition, but it has broken ranks and sided with the opposition on a number of issues.
Taufik said the plan to establish a special committee for the policy would be subject to a final decision by House Commission IX on manpower.
On Friday, the State Palace said there was no need to establish a special committee on the foreign workers policy. "Because they only seek clarification, there is no need for a special committee. The administration is ready to explain," said Presidential Chief Of Staff Moeldoko, as reported by kompas.com.
Moeldoko said the new regulation stipulated specific requirements for foreign workers, one being that they could only hold jobs above managerial level. (ahw)
Topics :
Join the discussions