Messi's biggest fan may miss World Cup as Argentina in IMF talks
Andres R. Martinez

Bloomberg
Buenos Aires |

Sat, May 12, 2018

| 05:30 am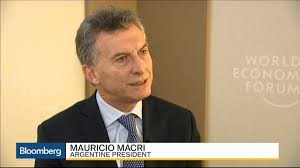 President of Argentina Mauricio Macri (Bloomberg/File photo)
Argentine President Mauricio Macri knows the political power of soccer.
When superstar Lionel Messi, 30, announced a tearful retirement from international soccer in 2016, it was Macri who took to national television to beg him to reconsider. Messi returned and led the team to qualify for next month's World Cup in Russia, lifting the mood of the nation.
That must make the dilemma now facing Macri all the harder. The former president of Boca Juniors, Argentina's most profitable soccer club, must decide whether to stay home and help negotiate a credit line from the International Monetary Fund, or watch the opening games of the World Cup. It is a sign of how bad the economic crisis is that Macri may have little choice.
The talks are scheduled to last about six weeks and Argentina's first game is on June 16 against Iceland in Moscow.
No decision has been made, according to local newspapers. But they are reporting that Macri may skip the tournament as he seeks to halt the slump in the currency.
Should the runners-up in the 2014 tournament pass the group stage of the World Cup, Macri will want to be in Russia supporting Messi and the rest of the team the second the talks end.
Join the discussions