12 Palestinians killed by Israeli fire in Gaza border clashes: ministry
Gaza City, Palestinian Territories |

Mon, May 14, 2018

| 06:15 pm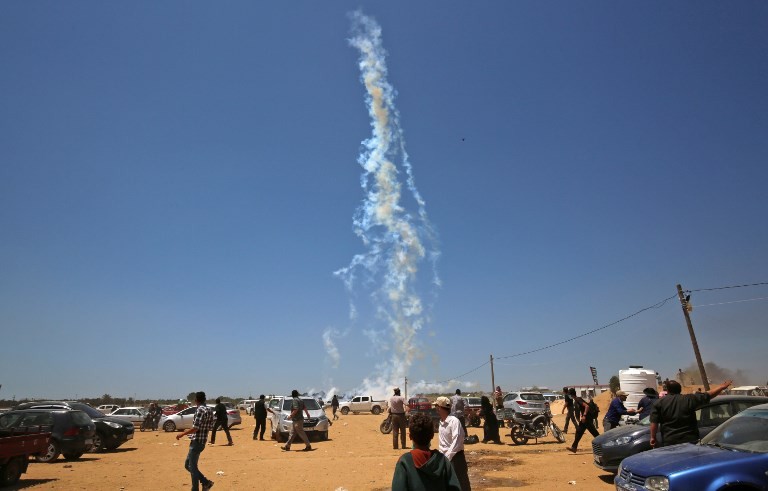 An Israeli drone drops tear gas canisters on Palestinian protesters during clashes with Israeli forces along the border with the Gaza strip east of Khan Yunis on May 14, 2018, as Palestinians protest over the inauguration of the US embassy following its controversial move to Jerusalem. (Agence France -Presse/Said Khatib)
Twelve Palestinians were killed by Israeli fire on the Gaza border Monday, the Gazan health ministry said, as mass protests and clashes erupted against the transfer of the US embassy to Jerusalem.
The 12, including a 14-year-old, were killed as major clashes broke out across the border between stone-throwing Palestinians seeking to damage the fence and Israeli snipers. Thousands of others were protesting near the border.
Clashes erupted along the Gaza Strip's border with Israel on Monday between Palestinians and Israeli forces ahead of the controversial inauguration of the US embassy in Jerusalem.
Several thousand had gathered near the border, while smaller numbers of stone-throwing Palestinians were approaching the fence and seeking to damage it, with Israeli snipers positioned on the other side.
Larger crowds were expected to gather later in the day to protest the move of the US embassy in Israel from Tel Aviv to the disputed city of Jerusalem.
The embassy inauguration was due to occur at 4:00 pm (1300 GMT).
Fifty-four Palestinians have been killed by Israeli fire since protests and clashes began along the Gaza border on March 30.
The protests are calling for Palestinian refugees who fled or were expelled during the 1948 war surrounding Israel's creation to be allowed to return to their homes now inside Israel.
Topics :
Join the discussions