43 Palestinians killed as Gaza erupts over Jerusalem embassy move
Saud Abu Ramadan

Bloomberg
Jerusalem |

Mon, May 14, 2018

| 10:45 pm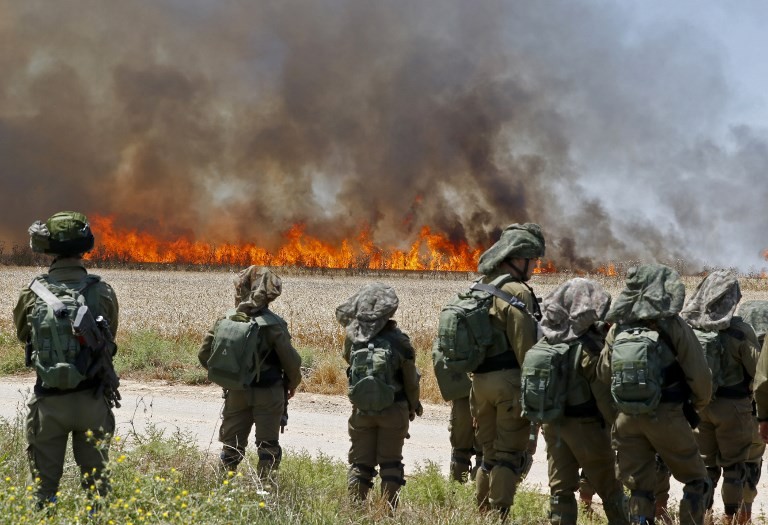 Israeli soldiers walk amidst smoke from a fire in a wheat field near the Kibbutz of Nahal Oz, along the border with the Gaza Strip, on May 14, 2018 which was caused by incendiaries tied to kites flown by Palestinian protesters from across the border. Dozens of Palestinians were killed by Israeli fire on May 14 as tens of thousands protested and clashes erupted along the Gaza border against the US transfer of its embassy to Jerusalem, after months of global outcry, Palestinian anger and exuberant praise from Israelis over President Donald Trump's decision tossing aside decades of precedent. (Agence France -Presse/Jack Guez)
Forty-three Palestinians were killed in confrontations with Israeli troops after thousands converged on the Gaza Strip border in a protest marred by violence, casting a pall over President Donald Trump's contentious inauguration of a US embassy in Jerusalem.
It was the deadliest day in Hamas-run Gaza since Israel warred with militants there in 2014. Hundreds were also wounded by live fire, the Gaza Health Ministry reported. About 100 Palestinians have been killed since a campaign of protests began on March 30, according to the health officials.
The US decision to relocate the embassy from Tel Aviv was a diplomatic victory for Israeli officials, but a blow to the Palestinians, who see it as undermining their claim to establish a capital in the city's eastern sector. Gaza protesters, egged on by loudspeakers and transported in buses, streamed to the border, where some threw rocks, burned tires, and flew kites and balloons outfitted with firebombs into Israeli territory.
The Israeli military airdropped leaflets warning protesters to stay away from the frontier. It said that it stopped militants from laying an explosive device and that aircraft targeted Hamas security posts after troops were fired upon, it added.
Israel accuses Hamas of using the protests as cover to attack the Jewish state, and has vowed to prevent any attempts to breach the border, the ultimate objective of the protest campaign. It also charged Iran of funding the violence against Israel along the border.
At the embassy inauguration ceremony, Israeli Prime Minister Benjamin Netanyahu praised soldiers protecting the border with Gaza.
The "March of Return," as the weeks-long protest is known, began as an effort by grassroots groups to draw attention to the Palestinians' demand to return to homes lost in fighting surrounding Israel's 1948 creation. The campaign, which took shape after the embassy transfer was announced, was quickly co-opted by Hamas, eager to divert popular anger away from its management of impoverished Gaza.
Border confrontations are expected to spill into Tuesday, when Palestinians mark the 70th anniversary of the "nakba," or "catastrophe," of their displacement by Israel's birth.
Topics :
Join the discussions