US officially opens its Jerusalem embassy in ceremony
Jerusalem |

Mon, May 14, 2018

| 08:53 pm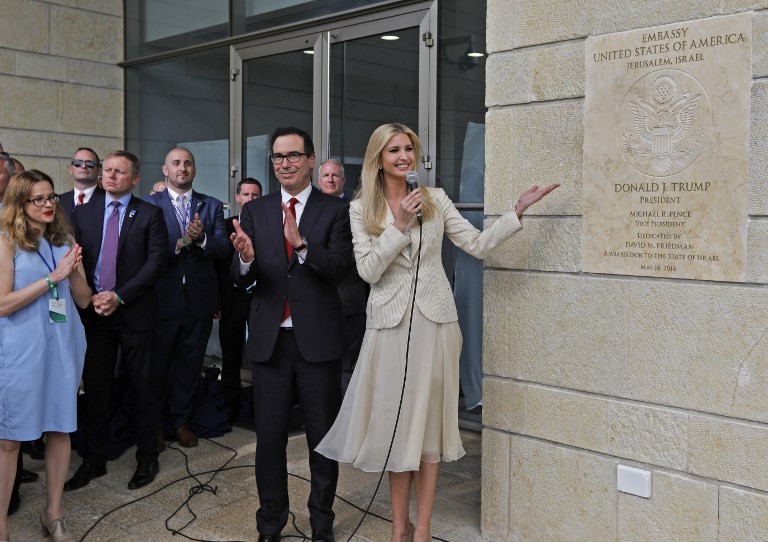 US Treasury Secretary Steve Mnuchin (center-left) claps as US President's daughter Ivanka Trump unveils an inauguration plaque during the opening of the US embassy in Jerusalem on May 14, 2018. The United States moved its embassy in Israel to Jerusalem after months of global outcry, Palestinian anger and exuberant praise from Israelis over President Donald Trump's decision tossing aside decades of precedent. (Agence France -Presse/Menahem Kahana)
The United States officially opened its deeply controversial Jerusalem embassy on Monday in a ceremony that included a video address by President Donald Trump.
Trump told the ceremony that the United States remained committed to reaching a lasting Middle East peace though the move of its embassy in Israel from Tel Aviv to Jerusalem has provoked outrage.
A plaque and seal was unveiled at the ceremony officially opening the embassy.
The ceremony moving the US embassy in Israel from Tel Aviv to Jerusalem began with the US national anthem.
US ambassador to Israel David Friedman then spoke and President Donald Trump was given a standing ovation when he mentioned him.
Friedman referred to the embassy's location as "Jerusalem, Israel" drawing wild applause.
Earlier in the day, violent clashes erupted along the Gaza Strip's border, leaving 37 Palestinians dead from Israeli fire and hundreds wounded in the conflict's bloodiest day in years.
Join the discussions