One dead in latest terror raid in East Java
Wahyoe Boedhiwardhana

The Jakarta Post
Surabaya |

Tue, May 15, 2018

| 07:23 pm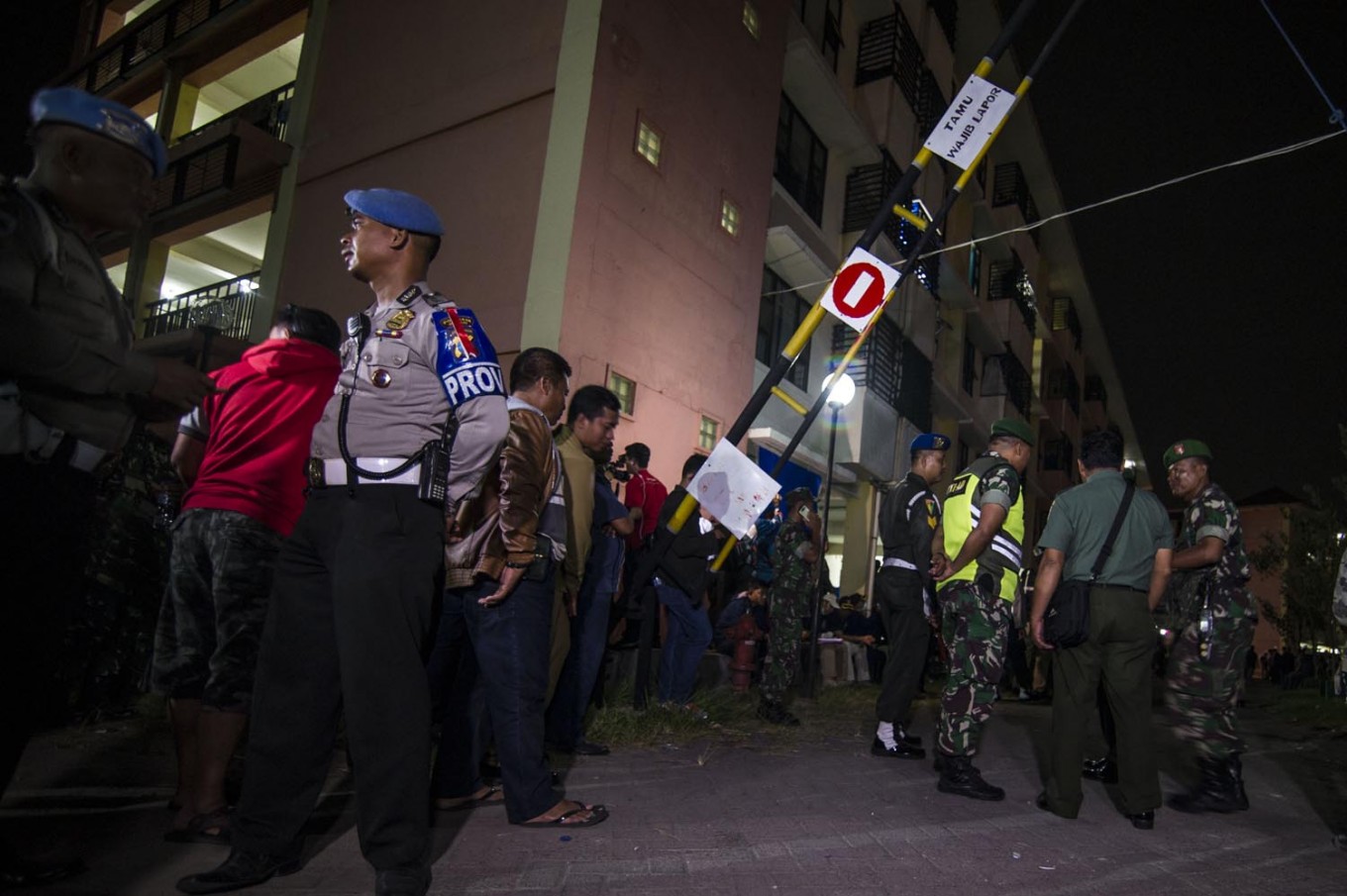 Police and soldiers work at the site of a blast at a low-cost apartment complex in Sidoarjo, East Java, on May 13, just hours after a series of blasts targeting churches in the neighboring city of Surabaya. Earlier on May 13, a family of six, including two young daughters, staged suicide bombings at three churches in Surabaya during Sunday services, killing at least 13 people and wounding dozens in attacks claimed by the Islamic State group. (AFP/Juni Kriswanto)
Members of the nation's Densus 88 elite counterterrorism squad killed one terrorist suspect in Surabaya, East Java, on Tuesday afternoon, in the latest raid on members of a local terrorist network accused of being responsible for a string of bombings in the province.
"The suspect resisted arrest and endangered the officer, so we took stern action," East Java Police spokesman Frans Barung Mangera said on Tuesday.
The officer refused to identify the 39-year-old suspect. He was the fourth suspected terrorist shot dead by police following bombings that killed 28 people, including 13 suicide bombers or their children.
Previously on Monday night, the squad arrested four suspected terrorists in Malang regency, Pandaan and Surabaya.
The police have not released the names of the newly arrested suspected terrorists but said they were connected to the perpetrators in the church bombings, including the family of Dita Oeprianto, who blew themselves up at three churches in the provincial capital on Sunday.
The police have so far arrested 13 suspected terrorists after the bombings. They are believed to be members of the Jamaah Ansharud Daulah, the main supporter of the Islamic State group in Indonesia. (ahw)
Join the discussions