Officer praised for saving young girl in attack on Surabaya Police
Safrin La Batu

The Jakarta Post
Jakarta |

Thu, May 17, 2018

| 04:54 pm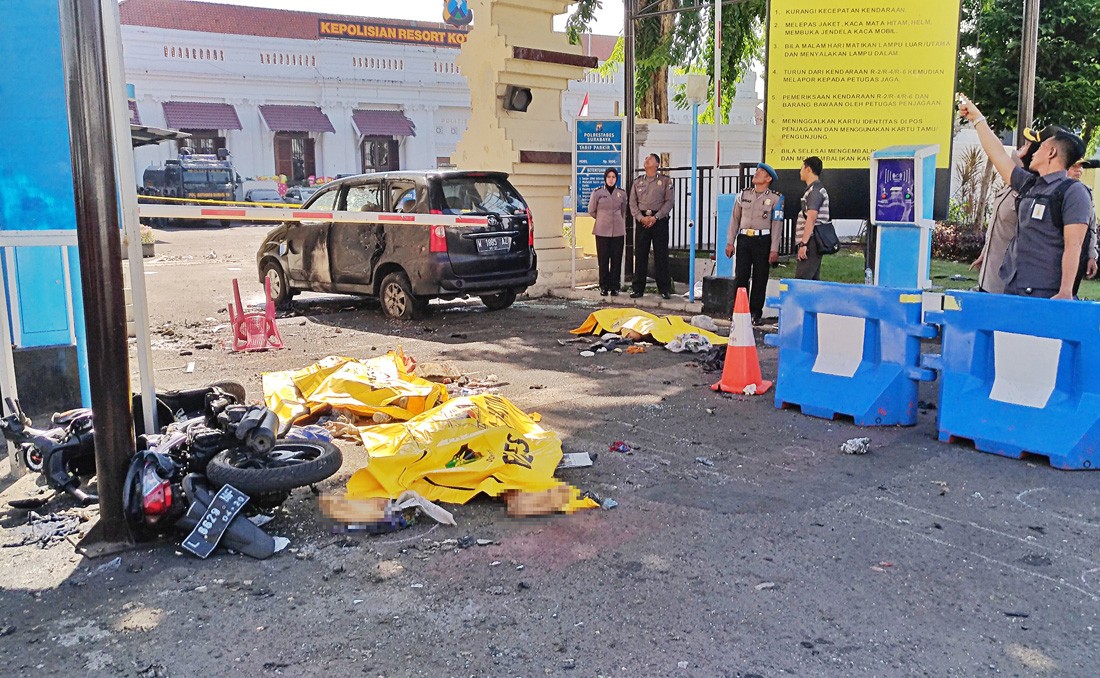 On alert: Security officers watch the wreckage of a motorcycle used in a suicide bombing at the Surabaya Police headquarters in East Java on May 14. (Antara/Rendra Pradhana)
Sr. Adj. Comr. Roni Faisal Saiful Fatoni is the head of Surabaya Police's narcotics division. Recently, however, he has received an avalanche of praise from across the country, not for taking down drug dealers, but for rescuing a child from the smoldering wreckage of a bomb detonated by her own parents – a bomb that was meant to kill him and his colleagues.
On Monday morning, Roni and several other police officers were on standby at their office trying to make sense of a spate of terror attacks that had struck the city the day before. The Surabaya Police were aware that they could very well be the terrorists' next target, so heavier security was placed around their headquarters.
Their instincts may have saved the lives of many police officers, as that Monday morning, five people on two motorcycles approached the headquarters' main entrance at high speed. Mere seconds after stopping at the security gates, as ordered by officers, the bombs strapped to their bodies went off, throwing nearby personnel to the ground.
Four people on the motorcycles were killed instantly, but an 8-year-old girl – the daughter of the perpetrators – survived.
Amid the panic, with flames and smoke still billowing from the site of the explosion, the young girl could be seen rising unsteadily to her feet. She tried to move away from the ruins but was unable to walk due to her injuries.
Without knowing whether a second bomb was set to go off or, worse, whether the child had explosives strapped to her body, Roni rushed toward the girl and scooped her up in his arms to take her to safety.
"I have a daughter exactly her age. My immediate instinct was to save this little girl," Roni said in a recent interview with Kompas.TV.
Speaking at a press conference on Tuesday, East Java Police chief Insp. Gen. Machfud Arifin said: "If there had been a bomb tied to the child's belly, I would have lost my narcotics division head."
Footage of Roni's daring move quickly made the rounds on TV news outlets as well as social media platforms. Netizens responded by praising his actions as "heroic", with many lauding him for saving the child without hesitation and at the risk of his own life.
Praise was also directed at the National Police for their swift actions in handling the terrorist threats when they themselves had become a target.
"Feeling touched. Thanks Pak Roni for saving her," @Anaa said on Twitter.
Flower boards with messages supporting the police can still be seen around the East Java Police headquarters.
"We support the police in keeping NKRI [the Unitary State of the Republic of Indonesia] safe," one message reads. (ebf)
Join the discussions