Trump, Kim agree on denuclearization, security guarantees
Tramaditya Salim

The Jakarta Post
Singapore |

Tue, June 12, 2018

| 08:15 pm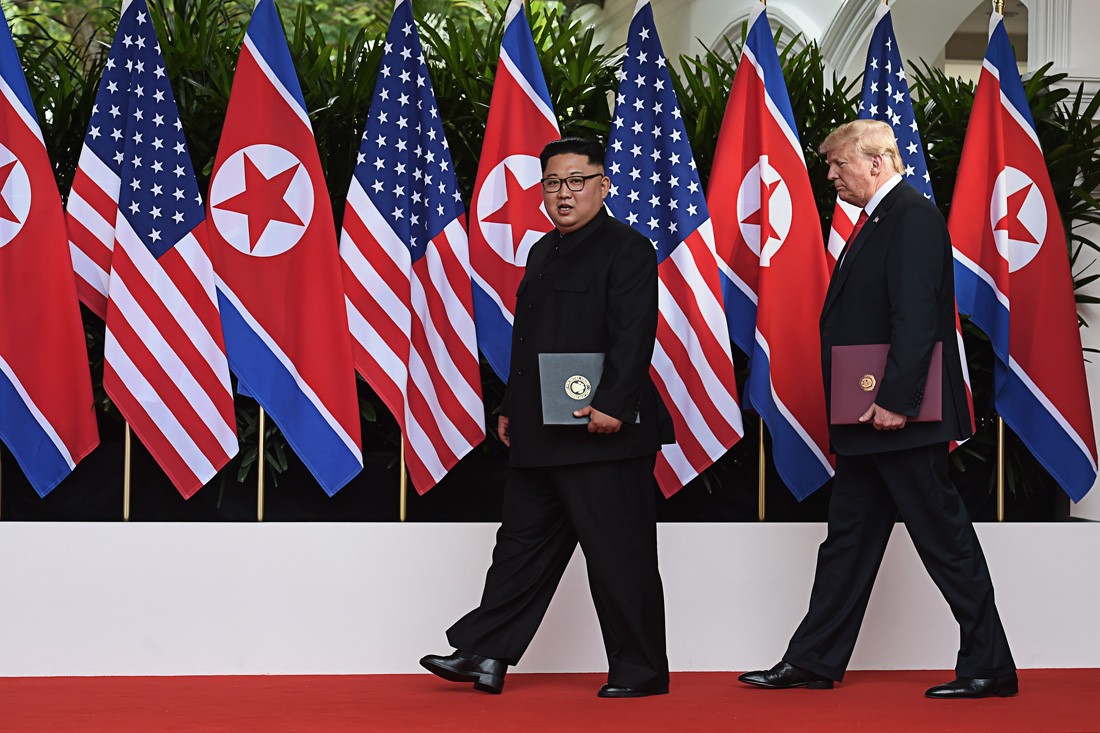 United States President Donald Trump (right) walks with North Korea's leader Kim Jong-un after taking part in a signing ceremony at the end of their historic US-North Korea summit at the Capella Hotel on Sentosa island in Singapore on June 12. (POOL/AFP/Anthony Wallace)
United States President Donald Trump and North Korean leader Kim Jong-un came away from a historic summit on Tuesday with an agreement to work toward a "complete denuclearization of the Korean Peninsula".
Trump has committed to providing security guarantees to North Korea, while Kim "reaffirmed his unwavering commitment" to complete denuclearization, according to a statement signed by both leaders at the end of the summit in Singapore.
Both sides also agreed to establish diplomatic ties during the event, which the statement says "will contribute to the peace and prosperity of the Korean Peninsula and of the world".
The statement does not go into details on how denuclearization would be achieved and leaves out other issues that may complicate tensions in the region. It only said that the US and North Korea would "join their efforts to build a lasting and stable peace regime" on the Korean Peninsula.
Both leaders say, however, that they reaffirmed the Panmunjom Declaration signed during the Inter-Korean Summit, which became the basis of realizing a nuclear-free Korean Peninsula.
The US and North Korea also committed to recovering the remains of fallen heroes and prisoners of war, "including the immediate repatriation of those already identified".
Speaking at a press conference after the summit, Trump said he expected the denuclearization process to start "very, very quickly".
Trump and Kim were in Singapore in the first ever meeting between a sitting US president and a North Korean leader.
Join the discussions