Indonesian teens make the best of trip to Russia
Dicky Christanto Wulandaru

The Jakarta Post
Moscow, Russia |

Wed, June 13, 2018

| 06:46 pm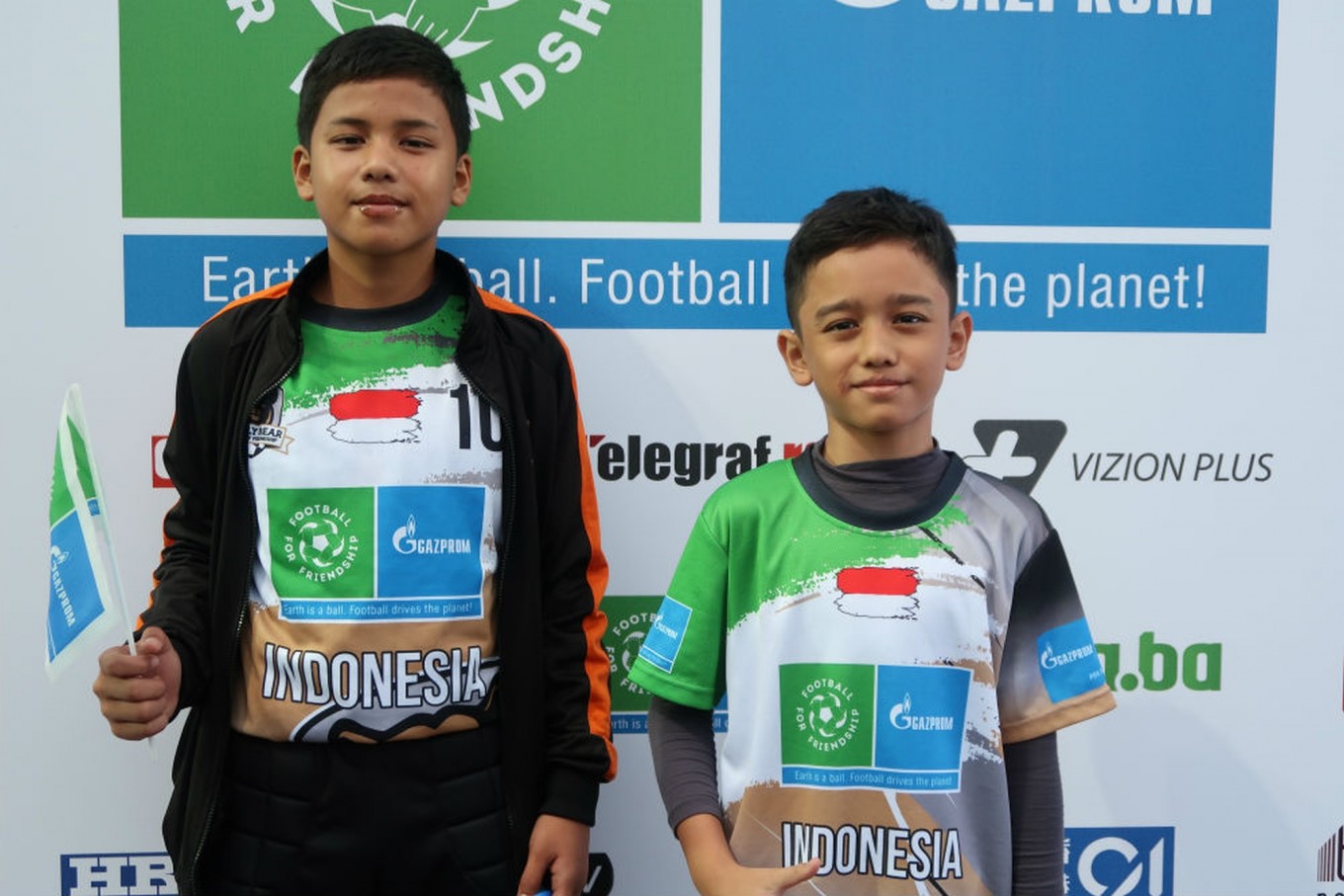 Muhammad Raffa Dolly Casillas (left) and Alfonso Hizkia Kaleb Hutabarat of Indonesia pose on the sidelines of the sixth edition of Gazprom Football for Friendship World Championship held at Sapsan Arena in Moscow on Tuesday. (JP/Dicky Christanto)
Twelve-year-olds Muhammad Raffa Dolly Casillas and Alfonso Hizkia Kaleb Hutabarat of Indonesia seemed to have a little trouble expressing their feelings during a good week spent in Moscow as part a youth program.
What they truly showed, nevertheless, was genuine excitement, as they joined hundreds of children from 210 countries from around the world for the Football for Friendship (F4F) program run by Russian gas giant Gazprom.
It was the first time Indonesian children had taken part in the program.
On Tuesday, Casillas ended his journey in the program's 6th Gazprom Football for Friendship World Championship friendly soccer tournament, as his team, the Grizzly Bears, did not advance at the Sapsan Arena. Despite the loss, Casillas managed to make new friends and learn new roles while in the host country of the 2018 FIFA World Cup soccer tournament.
Goalkeeper Casillas didn't have time to feel sad for long about his team's loss, however, because despite not winning the trophy, which went to Team Chimpanzee, he certainly made tons of memories and learned many life lessons.
"I've had so much fun here, making and cooperating with new friends, and also learning which parts of my game I need to improve to become a better keeper," said Casillas, who practices at Firman Utina soccer academy at home.
Alfonso, who adopted the role of young journalist, said he had found a passion for the profession after doing the job during the championship.
"Meeting and interviewing new people and gathering facts has been fun for me and has helped me find a bigger passion for journalism," he said.
The F4F is a program sanctioned by FIFA that is designed for children from around the world to enjoy life through soccer and learn important values like sportsmanship, honesty and off course friendship.
This year's program will end on Friday. As Gazprom is among the cup's sponsors, the program allows participants to attend the sporting event's opening ceremony and first match between Russia and Saudi Arabia on Thursday.
Join the discussions