Indonesian youngster learns soccer core values in Russia tournament
Dicky Christanto Wulandaru

The Jakarta Post
Moscow, Russia |

Wed, June 13, 2018

| 12:16 pm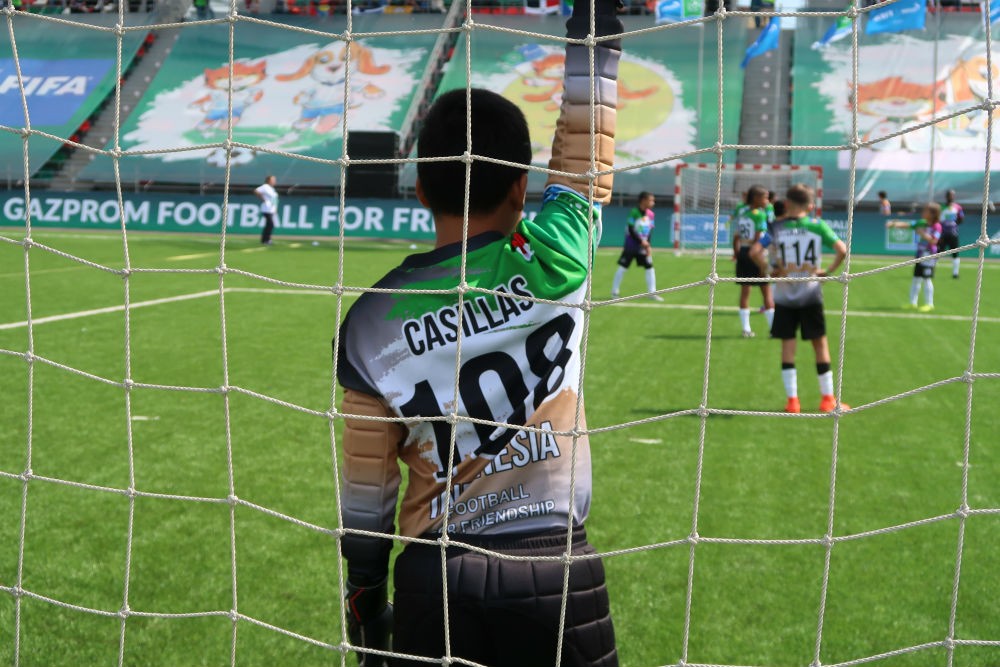 Indonesian Muhammad Raffa Dolly Casillas, goalkeeper of soccer team Grizzly Bears, calls to one of his teammates during qualifiers of the sixth edition of Gazprom Football for Friendship World Championship held at the Sapsan Arena in Moscow, Russia, on Tuesday. (JP/Dicky Christanto)
Muhammad Raffa Dolly Casillas, a sixth grader from an elementary school in Tangerang, Banten, found a new meaning in his quest to learn the world's most popular sport, soccer.
Muhammad Raffa, better known as Casillas, participated in the sixth edition of a soccer tournament called Football for Friendship (F4F) 2018 World Championship in Moscow, Russia, which was hosted by the country's gas giant Gazprom in cooperation with world soccer body FIFA. It was the first time for Indonesia to participate in the program, which welcomes 211 countries from all over the world this year.
The F4F program is tailored as part of the world campaign on the sport's core values, including sportsmanship, tolerance and responsibility to the younger generations.
Casillas, who played goalkeeper, said he had learned valuable lessons while joining the tournament, especially as he was a bit nervous to play with his new English-speaking friends. The tournament taught and gave him firsthand experience on sportsmanship and bravery.
"Now I know that being brave while we're on the field and upholding sportsmanship are as important as soccer's skill itself. I feel very grateful that I can learn [those values] here," he told The Jakarta Post during the tournament's qualifier held at the Sapsan Arena in Moscow on Tuesday.
At the time of writing, Casillas was actually not in high spirits as his team, the Grizzly Bears, had just been beaten 1-0 by their opponent, the Lions. In two previous qualifying matches, the Grizzlies collected a win (1-0) and a draw (2-2). The Grizzlies' fate was on the edge, as if the Lions won the last qualifier it meant the Grizzly would end its journey in the tournament.
Join the discussions